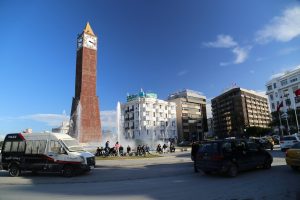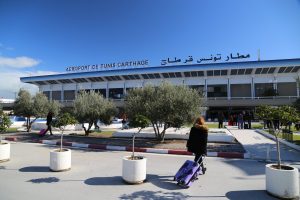 I did not think twice of going to Tunisia for holiday. But then I had to wade through the thick flotsam of fear about the warped realities of travel to Tunisia I encountered when I informed people I was going to this country. Ultimately this fear messed with my psyche and did so until I was on my final flight to Tunis when I finally was able to relax.
But such was my luck the night I arrived – a suicide bomber killed himself and 12 other Presidential guards a few minutes drive from my hotel. This complicated things trying to get downtown (but ultimately I found a taxi driver that would take me to the hotel). When my brother arrived from Verona Italy 2 hours earlier, the airport was eerily empty and he only saw two taxis waiting.
Now the government has issued a curfew for Tunis for the next few weeks – and one must be off the streets of the city by 9pm or be subject to arrest.
Confined narrow streets jostling with passerby's and vendors greeted us as we entered the darkened streets of the Medina the next day. We trod slowly over the cobblestone – worn by decades of feet who passed here before us. Art, trinkets, spices, clothing, perfume, rugs, food, jewelry all created a visual and aromatic feast for the senses.
A passerby claimed to be on his way to visit his grandmother for lunch but he had a few extra minutes to show us around. Those few minutes quickly turned into 30 minutes followed by a visit to his perfume shop where he slathered our wrists with strong scents. Then he filled a few bottles and tried a force sell on us which we denied multiple times having no interest in buying perfume.
I took advantage of the frigid air and visited a hammam near the Medina. It was a struggle to communicate in either French or Arabic but a helpful elderly gentleman stayed by my side pointing at me when he wanted me to do something. First up was a dip in an extremely hot water bath – splashing water over one's entire body.
Then I was splayed out on a marble slab where an elderly worker gave me a quick and abrupt massage. He then produced a Keffi stone (pumice rock) and promptly scraped all over my body, proudly showing me the dead cells he had produced at the end of his energetic rubbing.
We visited the center of town where the bombing had occurred the prior evening – parts of the streets were fenced off and we came across what looked like several hundred men standing on one of side of the street staring down military men with guns on the other side of the street. They were apparently keeping a vigil for those who died. We weren't sure it was a vigil at the time so we quickly avoided this group by dodging cars across a busy intersection.
We kept walking and stumbled upon a gang fight next to a park involving probably 10-15 people – it was happening fast, punches were being thrown and was soon becoming quite violent. We walked away quickly.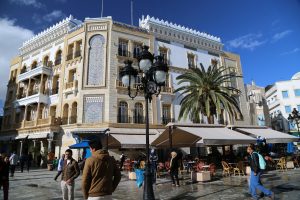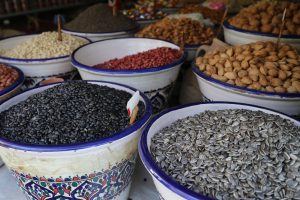 However despite all this, at no time during this trip have I felt uncomfortable – life here as in other countries I've visited during times of tension goes on with people going about their daily activities and the chances of a visitor becoming caught up in one of these incidents is *extremely* rare.
I try to reach out to locals for advice. Several I met this on trip were very helpful in sharing some of the culinary highlights and attractions in this part of the country. We met an interesting journalist who had been kidnapped by Hezbollah in Beirut a few years back and also was kidnapped in a separate incident in Ukraine many years ago.
By evening we needed a break from city streets so we headed to Villa 78, a very popular restaurant and bar. And they serve alcohol so I tried an excellent Tunisian red wine blend from a producer called Magnifique (apparently there are more than 10 wineries producing wine commercially in Tunisia, reference this BBC article from 2015). We made it back well before the curfew began.