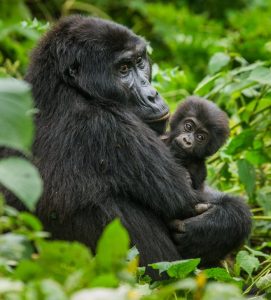 Gorilla trekking to Volcanoes National park Rwanda one of the most remarkable and unforgettable experiences a person can have for an entire lifetime, meeting eye to eye with these amazing creatures is an opportunity that anyone should never miss. Several questions usually linger in the minds of tourists wishing to take part in gorilla trekking. These questions include what gorilla group is the most desired, how long does it take to track the gorillas? Which is the easiest group to track?, how long can it take to track a gorilla group?, which one is the most difficult to track?, how fit do you need to be to track the mountain gorillas? Answering these questions is difficult because gorilla trekking involves going through thick forests and areas of high altitude and situations keep changing, experiences also change and the gorillas are not positioned in one location that you will be guaranteed to find them where they were left the previous day.
Tracking mountain gorillas is exhausting and associated with various challenges but tracking some gorilla groups is more challenging though adventurous than others. Clients can feel free to specify what conditions they can be comfortable with depending on their age, health conditions. Level of vigor where by those that can't hike in areas of higher altitude or farther distances can be attached to a group in nearer places involving less strength during trekking. However also the level of difficulty of hiking depends on several variables which include the vegetation of the area where some areas will be thicker than others, rain which makes the ground slippery, the age of the client where by those above 50 years will generally find it more difficult to hike some places.
Tourists need to note that a Rwanda gorilla safari involves two episodes whereby the first episode involves trekking from the car park/accommodation for those lodges outside the park to the forest/park boundary. This can take from 30 minutes to one hour depending on the speed of the traveler or which group you are planning to track. This is quite predictable since most areas are flat though some groups like Susa A is considered the most difficult and challenging to track because they are located in an area with higher altitude. While the second one involves the actual trekking in search of the gorilla group which in most cases have been seen the previous by the guides and previous trackers.
This phase is quite unpredictable because the time you will find the gorillas cannot be predicted, the terrain may also not be favorable so knowing the group you are assigned to will help to plan accordingly.
Tracking the Susa group (Susa A) is the most difficult and more demanding but the family has over 33 members present. The Karisimbi group (Susa B) is at times difficult because the group members they are usually sighted on the upper slopes of Mount Karisimbi, meaning only clients who are physically fit are advised to track this group. These groups would be preferred by the lean-looking tourists especially in their 20s and 30s and in a good health condition.
Amahoro family is also a bit demanding to track since you have to hike mount Bisoke slopes to find them since its where their home is found. However it is not so difficult compared to the Susa group.
For the older tourists or those that prefer straightforward groups, Sabyinyo is the best group to track because it is near and easiest to reach and are found in the gentle slopes of Mount Sabyinyo and Mount Gahinga.
This is the best to be tracked by people of 50 years and above. Hiking to Kwitonda, Hirwa and Agashya groups is not so demanding hence does not need a lot of strength to reach them.
Much as some are easy to find than other groups, these wild animals are not stationed in one position but keep moving from one place to another. The one which might be expected to be found in an easily reachable area might move to a further distance which makes predictability not 100% accurate and guaranteed. Sometimes it can depend on how lucky you are to find them in the position they are expected to be. Tourists should be apprised in advance of the challenge they are likely to meet as they go on this great expedition. During dry seasons when the vegetation reduces, it takes a longer time to locate these primates because they move to deeper areas in search of food. But during rainy seasons it can be easier to find them since there is ample food for them.
National parks and forest reserves do not have paved or tarmacked roads which tourists outside Africa are used to, they are not used to dusty and muddy roads which are typical of these forest floors. During the rainy seasons especially from March to May, the floors become muddy and sticky, so gorilla trekkers are recommended to wear tough waterproof hiking boots with robust treads, should have firm ankle support and have a walking stick for easy movement in this terrain. Mountain gorillas live in areas of high altitude of 2200 to 3000 meters above sea level, trekking to these areas can cause altitude sickness most especially for people who are from areas of low altitude regardless of how physically fit you are. It is advised to travel to Rwanda at least a week before the gorilla trek, stay in areas of high altitude like Nyungwe which is at 2000meters above sea level for some days to get the body acquainted to conditions of high altitude before visiting the Volcanoes National Park. When on this trek and feel tired, speak to a guide who will recommend stopping and resting for some time, drink plenty of water and have some snacks which will give you energy and quench your thirst.
In conclusion, gorilla trekking is an adventurous and breath taking activity and the entire process leaves unforgettable memories in the minds of travelers, however it is a challenging venture but tracking some gorilla families is more challenging than others and therefore travelers need to prepare in advance but it is not always a guarantee that things will be easy or difficult as you expect to be.
Local operators to contact for gorilla trekking – www.silverbackgorillatour.com