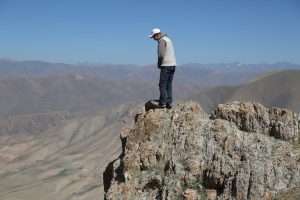 Waking up early this morning after a restless sleep, I watched the sun rise and I also watched one of the ladies milk several cows. The splish splash of milk from one teat to the next into a metal pail reminded me of the last time I saw this – in a small village in Romania.
I have been battling a nasty flu and subsequent cold and ultimately a back breaking cough the past three weeks. A cough that is so spasmodic at times, fellow travelers look over with genuine concern every time they see me doubled over with my face nearly in the soil. My brother suggested that as a possible cure for my ailments – I go trekking high in the Tian Shan mountains where at similar altitudes I have proven to myself time and time again to succumb to the woes of altitude sickness. His advice wasn't particularly helpful at all.
After a breakfast of bread and local jams and jellies we headed out – up over the highest pass of the trek at about 3500 meters. Due to exhaustion and light headedness from the altitude it was soon decided to plop me on the back of our one accompanying horse and about an hour later I was at the pass, well ahead of the others who were struggling against the steepness and the lack of oxygen at this elevation. Lucky we had this horse, otherwise the way things were going a grave-site about half way up the pass might not been out of the question.
But once on top, the views were awe inspiring – this late in the season the arid landscape was covered with brown grass in all directions – massive mountains are balanced by giant valleys. And in one direction we could see the shimmering reflection of Song Kul Lake – one of the world's highest large lakes.
We spent the better part of the day hiking down to this lake and finally we reached it's shores. The lake freezes over solid in the winter months and locals drive their vehicles across its frozen surface. Continuing to hike we finally reached three small yurts; we ravenously dove inside one of them and feasted on freshly caught and cooked trout as well as mouth watering watermelon someone had probably brought up here by horse. By the way – some of the best watermelons I've had in my travels have been on this trip – the country is known for good watermelons, especially those that are grown in the Jalal-Abad Province.
It is oh so quiet here – the silence only broken every now and then by a few children running around. If this lake were transported to any of a number of countries, there would be large high rises, paved roads and the hustle and bustle of a tourist mecca sprawled out along its shorelines. Not so here – its shorelines are natural, nearly empty of people – the few people that live here year round make their living by fishing.