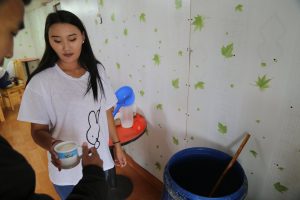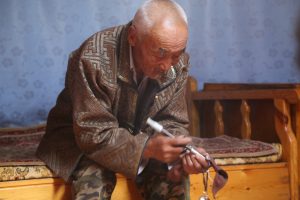 We left Ulaanbaatar in the early morning under the gloomy grey skies with a persistent drizzle. Depressing weather, but certainly not unexpected. Could be worse. Could be the -30 they often experience here in the winter months. There is a reason I am not here in winter.
We stayed with nomads – spending our nights in Mongolian gers – round accommodations that apparently can take only several hours to setup but seem very sturdy. These nomads have both a winter and a summer home where they oversee their animals, usually cows, sheep and goats. While these are very local accommodation – some rent out extra gers to visitors. Hanging out in a summer ger camp is a great way to meet interesting travelers from around the world and should be on the bucket list of any visitor to Mongolia.
Heading out of our camp the morning of day two we passed several cars parked on a nearby hillside with people milling about looking at some statue. Turns out there is a natural formation in the hillside that closely resembles a woman's vagina. Naturally, the locals erected a statue of a penis nearby. OMG.
Then it was on to a local monastery. Drizzling rain still – we pulled up and watched a cow cleverly open a gate into the grounds. We followed suit and were treated to several monks on a platform calling out loudly with long horns (called a dungchen), announcing their morning prayer time. Mesmerizing, we stood in the drizzle and watched them perched high on a wooden platform. Different country, but reminded me of Tintin in Tibet.
And a final highlight was a visit to the Hustai National Park, home to the Przewalski horses – the last remaining wild horses in all of Mongolia – although this needs to be clarified. These horses were hunted to extinction by the 1960s but a small genetic pool had been transported to Denmark where they were kept in zoos. About 15 of these horses were reintroduced to what is now Hustai National Park. Visitors can see them often grazing in the hillsides – there are no paved roads in the park – dirt roads wind through the hills where visitors can keep a sharp eye out for both these horses as well as other animals including deer and plenty of marmots.