During a recent visit to Yangon, Myanmar a friend of a friend working in the city informed us about a North Korean restaurant within a 10 minute drive of where we were staying (the Merchant Art Boutique Hotel).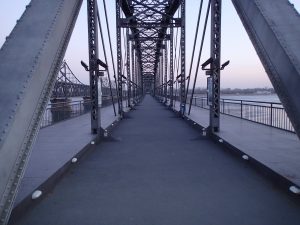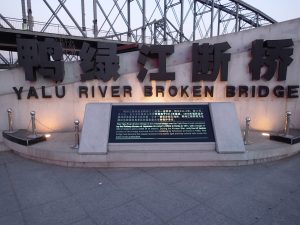 My only other experience with North Korea was in Dandong, China. An old military bridge (today called the Friendship Bridge) extends half way across the Yalu River. I was there in the middle of winter and I remember it was extremely cold.
I also remember walking out on this bridge by myself all the way to the end – where it just ended in the river right at the North Korean border – with pieces of metal sticking out. I walked onto one of these pieces of metal – as far as I could possible go and stuck out my hand. I suppose at least my hand was in North Korea. I also remember being struck by how lively and bustling Dandong was at night – lit up by lights whereas immediately across the river it was completely dark. In normal trade relations, there would at least be some sort of city across the river to connect with Dandong.
But I digress.
We all agreed to go check out the North Korean Restaurant (Pyongyang Koryo Restaurant). Nearby restaurants had people dining – this restaurant did not. We would find out why after receiving our bill. Two women dressed exactly the same wearing name tags greeted us at the entrance, effusively bowing and both saying something in a sing song voice.
There was no one inside – as a friend pointed out, it had the atmosphere of catering to older male business travelers.
Both women hovered near our table while we talked among ourselves. Attempting to take a photo of an item on the menu, they quickly descended upon our table waiving their arms saying "no photo, no photo" – just as quickly we hid our camera under the table.
Noting the prices on the menu were missing a few zeros we inquired as to why they left off the zeros for the Myanmar unit of currency, the Khat. They didn't seem to understand our question so we carried on ordering – kimchee, a hot pot and various Korean dishes. At one point during our meal they both came over the table and we asked them a few questions – simultaneously they answered, scripted, almost robotic in their presentation but with sing song voices.
We received the bill – it was for $75 dollars – by far more then we would spend on any meal in Myanmar our entire trip, by far more then we would spend on hotel rooms and tour excursions. Stupefied and stymied, we glanced at each other questioning the mis-communication. It turns out the prices (unlike anywhere else we visited in Myanmar) were listed in US dollars. BTB (big time bummer). We learned the hard way and paid up. On the way out they tried to up-sell us on $100 bags of mushrooms which supposedly would cure cancer. A curt "everyone has got to die sometime" from someone in our group put an end to our one sided conversation with the ladies and we moved on.
As we passed the back of the restaurant (still on the restaurant property) about 15 presumably North Korean ladies all dressed similar were engrossed in some sort of choreographed dance routine – super serious looks on their faces even as several locals from a nearby restaurant were laughing at their seriousness and look of their dance routine.
For those actually looking to visit North Korea – you may be able to do so depending on which passport you hold. A friend visited North Korea last year using Young Pioneer Tours – a tour operator offering a variety of tours into North Korea including to the Pyongyang Marathon – crossing into the country from Dandong. For more information visit: www.youngpioneertours.com or for another company offering tours to North Korea check out Kyoro Tours: www.koryogroup.com