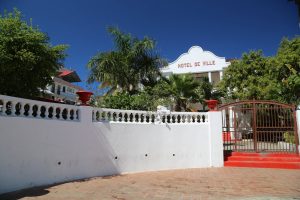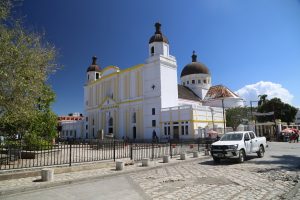 Nonstop flights leave from Miami to Cap Haitien daily (only about an hour and 45 minutes) and the small airport is located only about 20 minutes from town. Arriving in the heat of the day it was a short walk to the entrance to the airport where musicians were jamming some local flavors. A quick breeze through customs (helped by the fact I was the first one off the plane), no luggage to pickup and I was soon outside of the airport where my pre-arranged transportation was waiting to take me to town. Incidentally this has been the only airport that I have seen where a security guard waits next to the exit, unlocks the door one person at a time to let them out and re locks the door.
Opting for a cheap guesthouse, I was sorely disappointed when my confirmed reservations were denied because they were all full. I should have stayed at the slightly more expensive Habitation des Lauriers (that my friend recommended after a trip to this part of the country last year).
The following are some highlights of my visit:
IN TOWN
Our Lady of the Assumption is located in the historic core of town next to the Place d'Armes Square, a popular hangout spot for locals (and also historical significant as this is where the liberation of slaves was declared in 1793). Dating from 1670 this building was most recently restored after it was attacked in 2011 by religious vandals. A nice place to enjoy from one of the benches in the shade with a good book in hand.
Old Town is worth exploring – for the dated French colonial architecture – some of which is quite colorful. A market near the mouth of the River Mapou is a total assault on the senses. During our visit it had recently rained and the walkways were covered in mud, pollution and garbage and it was easy to sink down into much above your ankles. Pieces of banana stems and leaves had been placed over some of this gunk, but did little to improve the situation. A side street of charcoal vendors – apparently the wholesale section of town for this product left a black dusty mess everywhere. Vendors selling clothing spread out over plastic sheets on top of the mud line part of this market with nearby seamstresses working their sewing machines. And it is crowded with a variety of vehicles trying to squeeze through all at the same time. One of the more chaotic markets we have visited.
Walk into the hills above town. Look for a hill and walk towards it – the roads will invariable lead to steep dirt roads leading up to the top of several surrounding hills offering impressive views of the city and ocean. During a full day of exploring the highlands of Cap Haitien, I did not see another western tourist.
Lakay Restaurant overlooks Blvrd du Cap-Haitien and the Caribbean Ocean. Popular with both locals and expats – the occasional tourist sometimes wanders in. Offers a diversity of food including a nice lobster salad. Plenty of alcoholic and non alcoholic drinks – ever tried sour sop fruit? Their sour sop fruit drink is delicious.
OUT OF TOWN
Milot is a small town located about 40 minutes from Cap Haitien (nestled against the base of several mountains). Much smaller then Cap Haitien – also quite a bit cleaner. A small cultural center is located among the maze of streets – sometimes offering live music and basic food. Known for being the gateway to both the San-Souci Palace and the Citadelle la Ferriere.
Citadelle la Ferriere turned 200 years of age in 2020. This impressive fortress was built between 1805 and 1820 with the intent to repeal invaders (specifically from France). It is the largest fortress in the Americas – one gets an idea of its size when one approaches. Visitors reach the upper flanks by car – the road ends at a car park and stone pathway with awaiting horses and guides. One can either hire a horse to ride to the fort or make the hike yourself (about a 25-30 minute walk nearly all uphill). If you hike expect the guides to initially accompany you with a horse waiting perhaps for you to tire and ask to ride a horse. Simply tell them you want to hike alone and they will retreat. Locals live along parts of the trail and it is not uncommon to find them selling products or children playing music for donations during your hike.
Massive stone walls greet you when you reach the outside of the fortress – at one point 70 meters tall, towering above you. The fort is not built in the shape of a square, rather it has multiple angles and sides to its construction. There are several highlights of a visit including the views in all directions – even to the bays far in the distance and several hundred cannons – many perfectly preserved since their days of use. At its height, we heard over 50,000 cannon balls were stored on site – one still sees hundreds of these located throughout parts of the fort. Over 20,000 workers were involved in the construction.
The fort was commissioned by eventual king of Haiti, Henri Christophe. After he committed suicide in 1820 his body was lowered into one of the courtyards and entombed. Because of its elevation, the fort is often surrounded by clouds.
Sans-Souci Palace is located in the town of Milot and was the royal home for King Henri Christophe of Haiti, his wife Queen Marie-Louise and their children. It was built between 1810 and 1813 and despite being almost destroyed by an earthquake in 1842 enough of the palace still remains to give one an idea of its enormity – including the grounds, the site of a large swimming pool, expansive gardens and homes for servants. After paying a samll admission at a ticket counter near the entrance, one is let in by one of the guards at the gate. Then one can wander through its remaining walls and archways accompanied by a guide.
Well before the earthquake, this site experienced plenty of tragedy – Christophe had another Haitian revolutionary leader, Colonel Jean-Baptiste Sans Souci killed on site (he considered San Souci a traitor). Later Christophe committed suicide on the palace grounds and his son was bayoneted to death merely 10 days later. The wife eventually fled to Italy.
Caracol is about a 50 minute drive from Cap Haitien. Known for a large industrial park and the nearby University d'Etat d'Haiti, Caracol is actually a small town located next to the Bay of Caracol. A dirt road from town leads to several beaches and a number of fishing boats – some on shore, some anchored off shore. One can purchase fish directly from the fisherman (we saw some women fishing as well). Don't come here expecting super clear water and coral – rather this is mangrove territory and the water is slightly brown close to shore. Regardless, hike down the beach a ways to find some shade and sand – not a bad place to do nothing – simply hang out with a good book.
Cormier Plage is a beach resort located about 20 minutes north of Cap Haitien. Quiet and offering an excellent restaurant and bar – highly recommended is the lobster salad and grilled fish. Also tennis courts and access to the beach (guests to the property are given a plastic bracelet to wear during your time on site). Tennis courts also available.
Labadee Beach & Vicinity. Labadee Beach is a private part of a peninsula about a 25 minute drive from Cap Haitien – leased by Royal Caribbean International from the government of Haiti and is reserved exclusively for passengers of Royal Caribbean cruises. This appears to be some of the best beach real estate anywhere near Cap Haitien but outsiders are not allowed to use the property. With that said, at the end of the road near the Labadee Beach/resort is the Labadee Beach water taxi stand – and one can hire one of the waiting boats to take you on a tour along the peninsula here while stopping at several small beaches and bays should you wish to sun bath, snorkel or visit one of the restaurants that are located in the vicinity. We stopped by the chill Belly Beach with its super clear waters, pretty bay, sliver of white sand, but little marine life under water.
***
While I found parts of Cap Haitien to be be sorely in need of some TLC – the garbage for one is certainly bad in places. But there is hope for improvement, there is always that. And compared to how bad the city used to be, locals told me things are improving and parts of the city are getting a handle on managing the trash and beautifying their own neighborhoods, block by block.
And the Hugo Chavez Airport saw a runway extension and other improvements in 2012/2013 – the road from Cap Haitien to the pretty beaches in the north was finally paved offering much faster access.
The contrasts between the dirtiest parts of Cap Haiten and the pretties beaches and bays near Labadee are dramatic.
These photographs illustrate this very clearly: