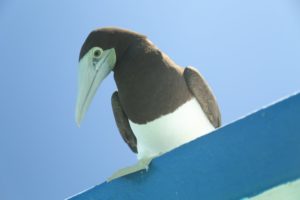 Mo'orea (Moorea) is only 30-45 minutes from the port in Papeete via ferry. And the port is only 10 minutes from FAA, Papeete's airport. Despite being so close, this island feels world's away from the often busy streets of Papeete.
Need Internet access upon landing at the Moorea port? A Vodafone phone shop is within a short walk of the ferry terminal – located next to the gas station. SIM cards plus data plans can be purchased here. Often guesthouses or hotels will arrange pickup at the terminal (may be included in the cost of your stay or may be an extra charge). The island is not big – 37 miles in circumference, lodging is usually a less then 30 minute ride from the ferry terminal.
Alternatively expensive flights (based on the short travel distance) on Air Tahiti leave from Papeete to the small airport on Mo'orea (flight time about 15 minutes) along witih connections from other islands.
LODGING
Hilton Mo'orea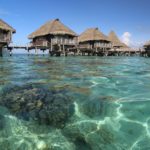 This is arguably the nicest place to stay on the island – with probably the most scenic bay on the island located in front of the resort. More then 50 over water bungalows are available as are 50+ shore bungalows.
An added perk of staying on shore is nearly every bungalow comes with a private pool. And for discerning visitors who want an onshore bungalow with a coveted view of the beach and water, book either bungalow numbers 46 through 48 or 53 through 55.
Residence Vainau

Operated by a family (the husband built the pension). Offers several private rooms with bathroom upstairs and a large kitchen on the first floor. Use of bicycles are included. These hosts are very personable and will setup tours upon request (a good way to go, especially if you are on a short schedule). One of the highlights of a stay here is a semi-private gated beach that guests have access to within a short walk from the residence. Wifi works well here. Short on time? The folks here can help arrange both land and water tours.
EXPERIENCES
Belvedere is an elevated part of the island featuring an excellent lookout and nearby hiking trails – one of which leads to a small river (what during rainy season can be a pleasant experience – take a dip in the cold water). Part of the experience of reaching Belvedere are the attractions on the way.
– Pineapple farms – growing on the lower slopes well before Belevedere are several pineapple farms – with pineapple plants covering the slopes. If one has never seen a pineapple growing before, this makes a nice stop.
– Freshwater eels – as one drives through the flats before reaching the section where the road begins to climb up into the hills to Belvedere – to the left is a freshwater stream. Giant eels live here – drawn to tourists by guides who began chanting and opening up cans of tuna fish in the water. From far away its quite the site to see the eels begin to energetically swim up stream as fast as they can.
—
Magic Mountain is located on private property high above one of Moorea's most picturesque bays (Opunohu Bay). From the main road, a precarious single lane climbs steeply above the surroundings – eventually reaching a small turn around area at a trail head. From this parking area its a short walk up steps to the top – overlooking gorgeous waters and the surrounding scenery. This is a popular stop with tour companies and folks on ATV's- but some people do walk up here – allow about 2 hours if on foot.
Fruit Stand – a small fruit stand is located near the main road at the entrance road leading to Magic Mountain. Great selection of locally grown tropical fruits with tables in the shade of small banana trees in front (where guests can enjoy both local fruits as well as freshly made drinks and ice cream).
Manutea Tahiti Juice Factory – this producer maintains a small store and tasting bar next to their factory, about a 5 minute drive from the Hilton. Ever had sparkling pineapple wine, still pineapple wine? Manutea produces these products but also a variety of delicious 'spiked' juices and various rums. And plenty of flavorful juices. Those looking for the alcohol soul of the island should come here!
Sharks Sandbank is located in the Moorea lagoon on the north side of the island. Situated among the aquamarine waters this is where sharks, manta rays and other fish tend to congregate – perhaps helped in part by hunger (tour guides or boat captains often chum the waters so the underwater life congregates around the tourists).
One comes to Mo'orea to rejuvenate and sway one's inner balance – tilt it on its fulcrum back into the direction of quietude.