As I pulled out of the airport I saw steam in the distance – making a mental note to come back here I later realized this must be the "sign" of the infamous Blue Lagoon. I returned in the afternoon driving through what at a quick glance looks like a barren wasteland with volcanic rock strewn all about. As you glance across this stark landscape you see no trees – but if you look closer in certain sheltered rock plateaus, there are in fact small trees growing.
And this "stark landscape" is also the home to many colorful lichens and mosses.
The Blue Lagoon is a bit over rated, over priced and perhaps over touristed. There are signs on site comparing it to 24 other natural wonders of the world – many of which I have personally visited. I don't see how visually and the experience of the hot waters is on the same level of say awe inspiring Victoria Falls or the massive Redwoods in California or Patagonia (among others on this list).
And the Blue Lagoon wasn't naturally occurring; it is the result of runoff from the nearby Geothermal plant – which you can't miss due to all the steam spewing out in the distance.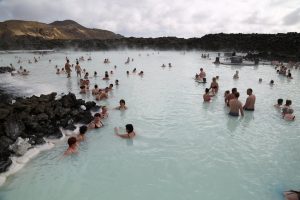 But in any case – once you get past the foul smells of going through the actual changing room (much better ventilation is needed in the men's changing room at least) and floors that are quite slippery (they need to add material to the floor like other spas to make this less slippery) and rather old wrist bracelets not well made which fell off easily – the water itself feels fantastic and is certainly a welcome change from the cold weather.
The changing rooms are separated by sex – during our visit there were plenty of men using the changing rooms without clothing and showering nude but an equal amount of people showering in swim trunks. Several small private changing rooms are located off of the main public changing rooms.
The Blue Lagoon is fairly large with plenty of space to swim away from the crowds that hang out near the swim up bar where you can collect a drink included with the price of admission of any of the tickets above the "Standard" option.
As I slowly moved around the lagoon and all its little side spots I found most of the water was a fairly constant temperature. However there is one spot in the lagoon with a pipe coming out of the water and signs that indicate "caution, hot water" where one can enjoy much hotter water than the rest of the lagoon.
The cold blue waters located to the left of the entrance make a great photo stop before you actually enter the lagoon. If you don't plan on going in the water – there is a small cafe next the lagoon with and outdoor access (if you want to touch or photograph the actual water).
Tickets can be purchased ahead of time or on site – for more information visit: www.bluelagoon.com