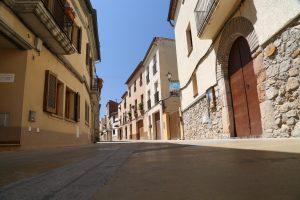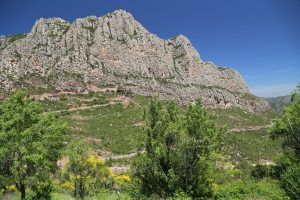 I find myself walking along the sun drenched walkways in the town of Collbató. A solitary horn echoes down the narrow alleyways. The pitch is not perfect and it is disjointed in sound. Perhaps it comes from a young student. Or maybe an older person wanting to explore a musical passion for the first time in their life.
Irregardless of who is playing, I follow the sound and spend a few minutes listening under the second story window while resting in the shade.
The stone walkways are eerily empty now. It is mid afternoon – the Spanish siesta time and everyone is resting behind closed doors. I have the town to myself to explore. I wander the streets slowly absorbing the sunshine, the colorful walls, flowers in pots and every so often I pause next to one of the unique wooden doors decorating some of the homes. But my gaze always returns to the rocky outcrops directly behind the town – they are hypnotic in their presence. I find a dirt trail that leads out of town and I lie down on the grass staring at them.
I then find a hidden restaurant next to a hostel in a back alley – called I'illia. The food is delicious and each course arrives within seconds of finishing the prior one. Most people head straight for Montserrat but this town is certainly worth stopping in for a few hours.
The trail head/road for Salpetre's Caves are a few minutes drive outside of Collbató – or a longer walk from town. These are the longest caves in Montserrat Park and extend for approximately 960 meters through the mountain. The hike from the bus parking lot is well worth your time. A dirt trail leads up the mountain as a shortcut instead of the paved road – wild rosemary grows along the path and by the time you reach the trail to the cave higher up you will see wild olives growing straight out of rocky cliffs. On this warm day, there is no other place I would rather be.
The caves themselves were originally found to have been inhabited 2.5 million years ago (Paleolithic Period) with more recent inhabitants from around 4,500 years ago. At one point the cave was used for mining saltpetre (a type of fertilizer made from bat urine deposited on the floor of the cave) – there are still bats living in part of the cave.
Finding the entrance to the cave locked I sit down, pick a wild fig and wait. I don't have to wait long; soon I hear the merry chorus of many children scampering quickly up the rocky path. There field trip is my "ticket" into the cave – soon I mingle and we all enter – their tour is in Catalon which I don't speak but I stick around for a short while before heading out and then down the path for more exploration.