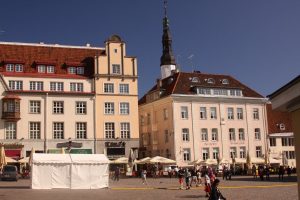 Prior to our most recent trip to Finland and the Baltic States – I was expecting frigid temperatures combined with grey days and rain. Watching the weather several months before this trip we noticed brutally cold temperatures continuing week after week.
Therefore we have been pleasantly surprised the past week – to have received a "weather bonus" if you will. It was 29.5 in Helsinki (33 is their all time record) and 31 in Tallinn several days this week – higher than any temperature in all of 2013 and parts of the country set all time records high temperatures for May. Warm days with clear skies immediately set a much more uplifting tone to our travels rather than the cold dreary drizzly days we were expecting.
The ferry ride on Tallink from Helsinki to Tallinn was unseasonably calm. We were seated in premium seating which was fantastic (food, drinks and free WiFi) but with the weather so nice we made a beeline for the upper deck! The skies were bright blue clear and the air was warm. It was an absolute party out on the top deck with northerners showing plenty of skin, soaking up the unusually warm May temps.
Once we arrived in Tallinn, I parked my friend in front of an expensive hotel/spa and headed up to the old town. After an hour of walking around I stumbled (Clarification: I had taken advantage of a few pear ciders prior) into the Meriton Hotel in the old town. The room was tiny and expensive and they only had one available – while the other hotels were booked solid.
A stay here granted us use of the diverse sauna and spa facilities at their other property just outside of the old town walls. Unfortunately it was about a 25 minute walk away. Once we arrived we found sauna bliss – with a Salt, Finnish and Aroma saunas. Walking into the salt sauna is an interesting experience – a large bowl of roughly granulated salt sits at the entrance and the floor is entirely covered in white. You grab handfuls of this stuff and rub it all over your body, sit for 5-10 minutes and then hope you come out with glowing skin and feeling rejuvenated.
However what felt more rejuvenating was the quick dips between the very cold water and the hot water pools.
The fish spa was particularly interesting – letting small fish eat dead cells off of your feet. Perhaps a trend? Perhaps of use? In any case, I've started seeing more and more of these around the world the past few years.