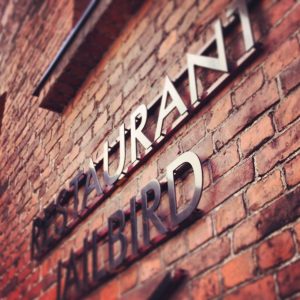 "Am I there yet? Am I there yet?" This question rattled around several times in my jet lag induced brain for a few moments before one eye fluttered open. In the foggy haze of nonstop travel for the past few days I looked around. I was in a small room. I noticed the window. It was high up the wall, not in a normal spot for a window. I glanced at the blinking red light. It was 4am. But there was plenty of outside light in the room. There was snoring coming from the bed next to me. My cellmate?
Then it all came back to me. I was still in prison and I was in Helsinki where this time of year there isn't much darkness at night. I then vaguely remembered stumbling off of the tram stop a few hours prior and staggering up a flight of steps to the entrance of an imposing brick building where we were met by a pretty blond who took all our details and "checked" us in.
I woke up in Hotel Katajanokka – an old prison that has been wonderfully renovated for more enjoyable purposes. This is the oldest hotel building in the entire country. The original wing dates from 1837 and the entire prison held up to 200 prisoners and was open as recently as 2002 when it finally was closed down. Doors to rooms are very tiny, the walls very thick, windows far and few between and employees wear prison stripes as their uniforms.
On an early sun drenched morning I headed down to the nearby South Harbour. Vendors were already setup here selling delicious looking fruit – piles of blueberries, strawberries and cherries shown brightly in the sun. A fresh breeze was blowing in from the water – several seafood vendors were selling their morning's catch directly from their boats anchored to the dock. Birds hovered nearby waiting to swoop in.
Finding some recommendations on Twitter we later headed over to what were told is the "legendary Roskapankki" bar. This place has character from the walls, to the actual bar to the patrons. Being mid week it was a bit slow but by the time we had left someone had smashed a glass on the floor and the couple in front of us had surprisingly not yet sucked all the air out of each other after 30 minutes.
Following another recommendation we tried the Kotiharjun traditional Finnish Sauna. It is the last wood fired public sauna in Helsinki and dates to 1928. I recall being beaten with birch branches by fat naked tattooed men in Moscow – that was the last time I was in a sauna in this part of the world.
Bravely pushing this memory aside, I entered Kotiharjun – it was more chill here – no bathing pools, rather just buckets for splashing cold water on oneself prior to entering the sauna. After the stresses of continuously moving the past few days this sauna was the perfect recipe for relaxation. When you wanted a break from the sauna you walked out mostly naked, lit a cigarette and sat on the bench next to the street.