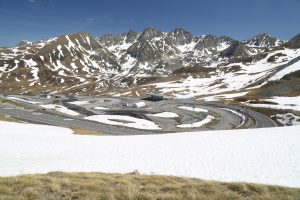 The population of Andorra is only approximately 85,000 people. We can see why; much of this small country is mountainous with steep hillsides and equally steep gorges. The engineering on their road system is rather impressive; we drove through several large round abouts raised entirely above steep gorges with several tunnels joining from various rock cliffs in a number of directions – all meeting in one particular roundabout. We drove several roads that could not have been possible to build a hundred years ago – with today's engineering expertise these roads were perched right on the edge of steep cliffs.
Andorra seems to have a plethora of gas stations – upon crossing through a long tunnel from France we drove down a steep valley that stretched for many kilometers surrounded by towering mountains. I've never seen so many gas stations located in such a short linear distance. Oh and the gas is remarkably cheaper here than many other European destinations. We saw diesel for under 1 Euro per liter.
The country is a popular destination for those coming from France interested in purchasing cheap alcohol and cigarettes. Although I'm sure there is a limit to how much of these "vices" you can purchase; we were stopped leaving the country by a policewoman who checked to see how much of these items we had in our vehicle. Tobacco is a common crop in what little farmland we spotted.
The city of Andorra la Vella is an easy one to walk – it is compact, linear (built up along the river) and there is plenty of shopping. One modern looking glass pyramid building stands out in particular, the Centre Termolúdic Caldea. This thermal spa is probably the most unique I've ever seen.