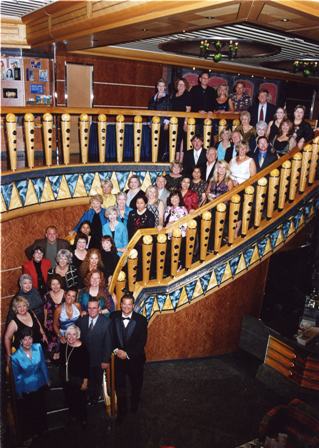 I've cruised dozens of ships on various lines and in my opinion this is as good as it gets on a mega-liner of 2200+ passengers with 920 crew. Costa's Atlantica was a floating palace of art deco furnishings, marble inlaid floors and millions of dollars invested in original works of art. It exceeded my expectations. Also I normally loose weight on cruises shunning the ships artificial fare. This time I over indulged on varied menus of fresh food. I ate enough prosciutto and ice cream to last a decade. The Italian accented cuisine was prepared by Euro-chefs and culinary graduates of the world famous Chaine des Rotisseurs.
We had an awesome group of 60 who blended harmoniously on this sailing (Adventures For Singles – www.adventuresforsingles.com – $1495 cruise only.) No love connections occurred (that I know of), but friendships developed as we bonded on our AFS private shore excursions and parties onboard. This group was blessed throughout with the best weather the Baltic region could ever provide – 68 daily and no rain. The First Officer said "this was the best weather of the summer."
Each country visited was a lesson in culture and history. We saw an eyeful along our 1987 nautical miles. In Copenhagen Denmark – with it's Mermaid, Stockholm Sweden – the archipelago referred to as "Venice of the North", Helsinki Finland – so friendly, modern and clean, Grand St. Petersburg Russia where we squeezed in a full power tour of the Hermitage, palaces, onion domed churches, canals and an evening ballet. Our final port was charming Tallinn Estonia where the entire walled Old Town is a UNESCO World Heritage Site. It was like walking through a fairytale.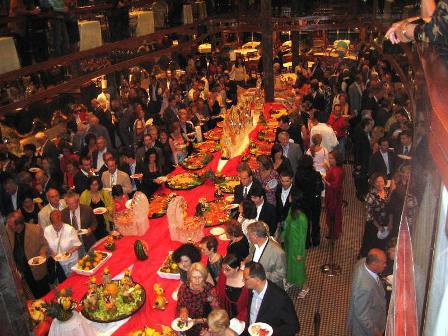 For our days at sea there was never a dull moment with 3 pools, shops, casino, luxurious spa and contests with the crew. The 2 story gym was so high tech that I didn't know how to turn on the equipment, so the only exercise I got was jumping to conclusions. The midnight buffets were the most magnificent I've ever witnessed with countless ice sculptures. There was a house baked out of bread and piano shaped from white chocolate.
On our last night we attempted to pack all our trinkets collected: faberge egg, Russian nesting dolls, Swedish crystal, Finish glassware, Nordic pewter, lingonberry jams, amber jewelry, hand knit sweaters and a million T-shirts. Many things such as our fur hats may end up in a garage sale some day, but the bargaining sure was fun.
We tasted just an appetizer of this 5 country smorgasbord but leave perfectly satisfied. As I say Bon Voyage to this unique part of this world, I am able to remiss another journey well done.