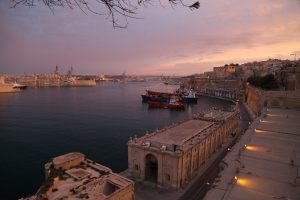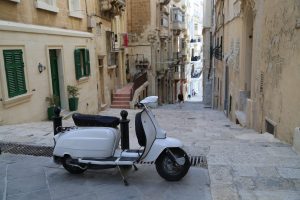 I proceeded to a tiny room at my hotel in central Valletta, oddly enough having to pass through the restaurant first. Many elderly ladies were absorbed in a riveting game of Bridge and I had to slink past their tables without bumping into them. Finding a balcony I stood overlooking the scenic water and Fort Saint Angelo in the distance while absorbing the smells of the salty water, the warmth of the Mediterranean sunshine and the tantalizing aromas wafting up from somebody's kitchen or restaurant of something delicious being cooked (probably the Maltese specialty, rabbit).
I soon discovered Malta is a special place and my stay here so far has created a lasting impression based on its natural beauty, rich history, architecture, rocks, rock walls and rock piles and rugged beaches. Valletta is one of Europe's most charming capital cities – with it's stone buildings, narrow walkways and tiny size. This time of year restaurants spill onto the sides of the streets and there is nothing better to do then drink alcohol and spend long meals people watching (I discovered a delicious Amaretto from Disaronno – an Italian spirits company that apparently has been in business since 1525!).
Public transportation is very well developed on the islands with an extensive network of buses. For only 2€ one can ride anywhere the buses go – and you have up to 2 hours to use the ticket after your purchase. I set off in search of some quiet beaches – this was easy to find at Golden Bay – about an hour bus ride from Valletta (distances are close on the island but sometimes traffic can be bad).
I discovered a set of rugged hiking trails connecting each bay – some did not have beaches in the common association of this word – rather were bays accessible via rocky shorelines or rocky ledges extending out into the water. I spent half a day hiking the rugged coastline here between small bays spotting a few nude bathers nestled in some of the narrow coves.
A few other random notes I learned from my time on the islands
– Maltese and English are the official languages – for English speakers this is an ideal island to visit as there are no language barriers
– I was told many of the construction workers are from African countries – often North Africa
– Malta used to be a part of the British Empire gaining it's Independence in 1964
– Malta became a part of the EU in 2008
– Valletta (the capital city) is the smallest capital city in Europe in terms of geographical size
– The main bus station in Valletta is only about a 10 minute walk to the center of town
– There are casinos on the island – the town of St. Julian's is known for both it's casinos and nightlife
– Malta has many UNESCO World Heritage sites including the Megalithic Temples of Malta (one of the world's oldest freestanding structures)