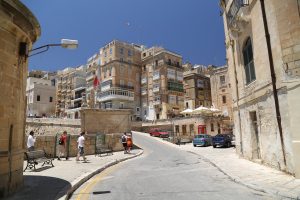 It's always difficult trying to find reasonably priced holidays in the summer school break, so when I spotted this package deal to Malta I snapped it up for me, my husband, Tom and my two daughters, Eva, 12, and Lily, 10. I wasn't sure what to expect, as Malta used to have the reputation of being a destination for older holiday makers, rather than families, but it seems the island is trying to change all that. Our resort, Mellieha, has the longest beach on the island, so perfect for the kids, and the majority of guests in our hotel were families. We stayed at The Solanda Hotel in a family room, which was really spacious and even had a microwave and mini kitchenette, even though we had booked for half board.
As soon as we'd started unpacking Lily was looking for her swimming costume, 'Let's go and look at the pool.' she said.
The hotel had two pools, one on the rooftop terrace and one in the basement, indoors with a Jacuzzi and free gym. Lily insisted on trying both of them and soon we had all joined her, relaxing in the Jacuzzi and sitting by the pool on the roof.  We used the pools almost everyday and me and Tom even had a go in the gym!
The buses in Malta are incredible and you can travel miles for around 50p, depending on which bus you get. The drivers all speak English and will help you with which stop to get off. We took the bus, which stopped outside our hotel, to Valletta a few times and it only cost around 50p each. Valletta is the capital city and the shopping there is probably the best on the island. It has a lovely harbour and plenty of cafes and restaurants that aren't too badly priced.
After a few days we noticed there were a lot of boat trips on offer down at the harbour by the beach in Mellieha. We were tempted to take one, as they offer short cruises to the nearby Islands of Gozo and Comino. But after asking in our hotel, we found out it's so easy to travel around we decided to catch the bus to the harbour stop and get on a ferry over to the smaller island of Gozo by ourselves. The ferry only cost 4 euros each.
Back in the hotel and the buffet restaurant had a theme every night, Italian, Country and Western, Maltese, and every Saturday night they held a barbeque on the roof top terrace with a DJ. Saturday was a real party atmosphere, the food was great and the setting and the music made it the best night of the week. Other entertainment in the hotel came from various singers and duets.
We had a great time in Malta, and I'd definitely recommend it as a family destination.
Further info
We travelled from Manchester airport with Thomas Cook. The flight took 2 hours and 50 minutes and the transfer from Malta's airport to the hotel took around 40 minutes.
We stayed in a family room in the three star Solanda Hotel
Two weeks half board for a family of four in August cost £2400
Language – Maltese, but everyone speaks English
Currency – Euro
We ate and drank – too much ice cream, and the local white wine!
Shopping – Valletta is brilliant for shops and has everything from Marks and Spencer to small boutiques. We bought summer tops for the girls that cost around £5 each. Mellieha has fewer shops, but I did manage to get a really nice new tankini for around £20.00, as, when I unpacked I realised I'd packed everything except my own swimwear!
If you're on a budget – Don't go on any organised trips. The buses and ferries are so cheap and easy to use you can see all the island by yourselves and you'll save loads of money.
My top tip – beware of the strength of the sun in Malta. Because it lies between the coast of Sicily and Tunisia, even on cloudy days the sun is dangerously strong. We all used high factor sun creams and still burned a little!