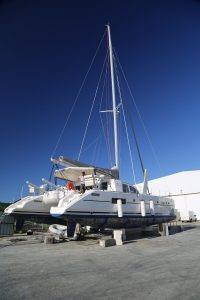 After leaving my brothers friend's Catamaran dry docked in the port of Canet France – I drove several hours to Barcelona. I arrived in the center of town – which was very crowded with narrow streets and no parking spots. One must have nerves of steel to drive here – I finally found an underground parking garage, one of the smallest I've ever been in – I had to make a 10-point turn or something numerically similar to that – just to get into and out of the parking spot!
There is a saying in Spain someone told me that when discussing something that will never be finished, Lasagrada Familia is referenced. Seeing this impressive building I can see why – concrete trucks were pulling in construction entrances, massive cranes towered overhead and scaffolding covered a fair amount of the structure. Oh and hundreds of tourists milled about craning their necks far back so as to glimpse the towers rising high into the sky.
Now I am in Caldes de Montbui, a small town in the mountains about 30km from the center of Barcelona staying with some very generous locals who gave me a tour of town earlier this afternoon. The highlight of a visit here are the historical Roman Baths which are open to the public several days a week – and additional baths that the locals use.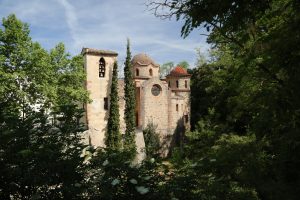 Several hotels operate spas in town using the naturally occurring heated water. A fountain in town spits water at 75 degrees C. One can only run their hand through this for less than a second in order to avoid being scalded. And even so it is still painful.
Community gardens line raised dirt beds above the river right below the baths. The musty smell of figs drifted upwards while our eyes were directed downwards at all the ripe red strawberries just waiting to be picked.
Tonight a friend was invited over to cook for us – we went shopping at the local market and brought over the ingredients. It is Spain and dinner is served quite late – as I write this it is nearly 11pm and we are still cooking. We will be lucky if we eat by midnight 🙂