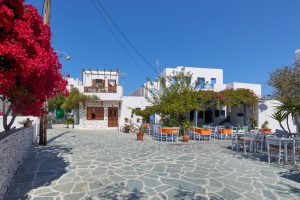 Of all the islands I have visited over the years, the first island I ever visited in Europe many years ago left a lasting impression on me. This was Paros, Greece. I was backpacking with my brother throughout Europe in summer. We had just arrived in Athens where the city was suffering through it's worst heat wave of the season with temperatures in the day hovering in the low 40's (105+ F). Incidentally Athens holds the record temperature for any European city when it hit 48 degrees Celsius in July of 1977!
The temperature wasn't quite that hot but with some humidity it was stifling especially in our hotel (with no air conditioning and no fan!). After a few days of this we were ready to head south to the Greek isles for some cooler breezes and a chance to at least cool off in the sea.
I don't remember why we chose Paros over all the other Greek islands but it seemed as good a choice as any and we were looking for a sunny beach holiday in Greece. And it wasn't particularly far by ferry from Athens – the total distance couldn't have taken more then a few hours.
Arriving we were met at the dock by what seemed like a large mob of people all fighting for our business – but probably did not number more then 50 people. Did we want a taxi? Did we need help finding our way around the island? Lots of questions were thrown our way. Owners of small guest houses were there to try and fill their rooms. Without reservations we choose one that fit our limited budget.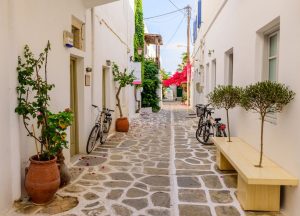 I fondly remember my time on Paros – wandering through the warm streets – the white washed cobblestone alleys among the vivid colors, the blues contrasting with the whites. But what I remember most about my time on Paros was renting a motor scooter (for the first time in my life) and exploring the dusty countryside, stopping at my leisure – visiting secluded beaches, stopping for a dip in the blue waters and then continuing at my own pace.
This was the first time I had experienced a freedom like this in my travels overseas with the ability to quickly explore as I wanted. I even took the bike off road on dusty trails just letting the freedom of the moment lead me.
Some of the attractions I enjoyed were Lefkes – a small village perched on one of the upper hillsides on the island. The Church of Agia Triada is worth stopping in to see the beautiful Byzantine icons. A small shop in the center of town also sells these icons – and if still there is certainly worth a visit.
Petaloudes, (the Valley of the Butterflies) is one of the few places on the island where you are actually surrounded by trees – and butterflies!
Paros is a great place for water enthusiasts – kite surfing is quite popular in the summertime, wind surfing has been popular here for years. Other water related activities include Scuba diving (during our visit the water was super clear), snorkeling and or just enjoying one of the many small beaches. My favorite beach was Kolimbithres Beach – across from the town of Naoussa. Also worth visiting in this part of the island is Cape Korakas – I rode my bike out on a dirt road which turned into small trails that led to a great viewpoint with steep cliffs and the water far below.
And Paros is still attracting visitors for it's relaxed feel and visual beauty. I recently read the island was listed in Travel & Leisure Magazine as one of their top 50 places to travel to in 2017.
I don't return to many destinations that I have previously visited, but it is obvious to me I need to return to Paros. For more Europe and beyond holiday options visit Voyage Privé.
This post was provided in partnership with Voyage Privé, a travel company that offers premium holiday destinations worldwide – with discounts up to 70%.