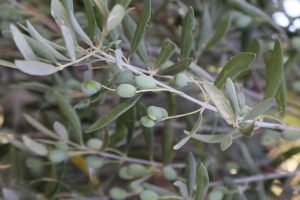 Since I am writing this from next to the beach in Vlore, Albania – truly the home to the olive – I thought it would be fitting to write about this historic tree. With some estimated 280,000 olive trees in Vlore, this city is really surrounded by the trees. The olive is native to the coastal regions of the Mediterranean such as this area – we are only some 70 odd kilometers as the seagull flies from the Italian shoreline – a country also home to numerous olive orchards.
Cases of olive trees living 2000 years have been recorded – it can transplant quite well even when its decades old. Ruins in the hills above this part of the Adriatic are full of olive trees – often looking much healthier than the decaying ruins alongside.
I took the following photos high in the Albanian hills above the historically very important port town of Orikum. There was no one else here – the road perhaps plays a prominent role in discouraging visitors. Its extremely rocky and very rough at times. Not an easy drive!