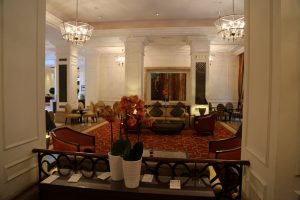 With upcoming excitement about a pending trip to Budapest, it seemed like George Ezra's song of the same name was always playing on the radio. The movie, The Grand Budapest Hotel was showing on a recent flight so I watched it yet again. In reality, both the song and the movie seem to have little to do with Budapest but both seem like appropriate entertainment considering my trip to this historical city.
In any case it is nice to be back – albeit this time it is significantly colder than several years ago when I was here during the height of the summer months and the city was a hive of activity from both locals and the influx of International tourists.
This time I am staying at the elegant and historic Corinthia Hotel – the Grand old Dame of Budapest first opened in 1896 – about 10 years after the elegant baths on site opened. The hotel was renovated to the tune of about 100 million Euro; today it is elegant yet preserves it's rich history.
VinCE Europe was held in March (which was the reason for my trip) – this is a major International Wine Show that focuses on wines from Central Europe – www.vincebudapest.hu
In a town known for its spa's and baths, this particular spa stands out, it is not large but is really a work of art! From the second balcony one watches and hopes that no one comes out of the archways and disturbs this silent perfection of a mirror reflecting below you. Visit: www.corinthia.com/hotels/budapest