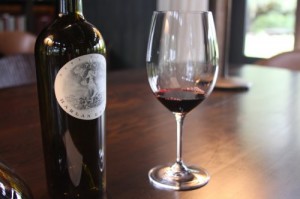 I've been working on the Napa Wine Project for the last nearly 5 years and recently made my 600th visit, review and tasting with a commercial Napa wine producer (winery). This project is my personal mission to visit, taste and review every commercial wine producer in Napa Valley (yes, its a crazy mission) but at least 5 years later I'm not looking up at 900 producers. Today the project is a good resource for both educated wine consumers as well as the trade. As a result, I have a very unique winery perspective into Napa that few have – if you are planning a trip to the Napa Valley and have any questions, drop me a note.
Harlan Estate was kind enough to let me visit their winery as my 600th visit. This was a real treat as their winery is rarely open to visitors and its hard enough to find or sample their wine (scarcity and current release going for around $600+/bottle online).
I know of at least 250 more unique producers in the Napa Valley who I have not yet visited with – this should keep me quite busy for the next 5 years!
Check out the review of Harlan Estate here: