I had booked my flight from Erbil (or so I thought) a few weeks ago. When it came time to sadly leave Iraq, I departed my guesthouse in Erbil and arrived at the airport. The first security check involved lines of cars stacked up as three cars in each lane were checked by guards at one time. Passengers opened all of their doors and trunks, dogs were involved, sniffing the tires and inside of each car and each person in each vehicle was subjected to a pat down.
The drop off point was not the departure terminal but rather another building where passengers went through additional security checks and then boarded buses for the departure terminal. Passengers were subjected to two more security checks before reaching any of the departure gates. But I never had a chance to reach any gate. I had checked in for my flight online expecting to reach Dammam in Saudi Arabia that evening and had my boarding passes on my phone.
My first cause for alarm was when the immigration officer sent me back to the main departure hall. With the help of the information desk officer, I quickly realized my flight was booked to leave from Sharjah International Airport. I still did not know that airport was not in Iraq. Regardless, I needed a flight out of Erbil. So fortunately, there was another flight in a few hours on Air Arabia leaving Erbil, connecting in Sharjah to Dammam. I booked it. The gate agent printed out my boarding passes. Smooth sailing!
I had comfortably settled into my exit seat and about 10 minutes before takeoff I noticed my boarding pass indicated the flight from Sharjah to Dammam was for some other day. OMG! So, I whipped out my phone and quickly booked a connecting flight for the same day finishing my frantic task just before the main plane door closed.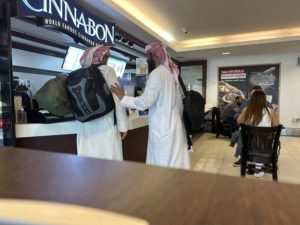 Arriving in Sharjaj, I figured I better check and see which country I had just landed in. It was the UAE; I noticed the airport was a short drive into Dubai. I also noted in the terminal that a number of passengers were dressed in shorts and other 'western clothing'. This was the first time I had seen this in some time after my stay in Iraq.
Fortunately, the last leg of my flight to Saudi Arabia went smoothly. Very smoothly. There were only 11 passengers on the entire one-hour flight.
Read about my adventures in Saudi Arabia next month … !