Pnomh Penh, Cambodia Dec. 19, 2004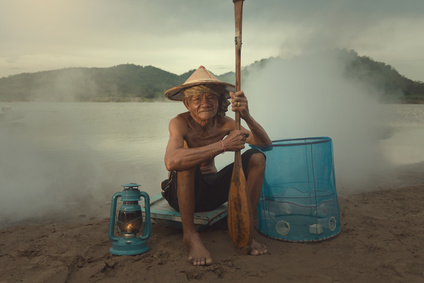 After a hot and sweaty bus ride south from Saigon, I thought we reached the South China Sea when we first came across this open body of water. Then the driver filled us in that this was the Mekong River, still sixty kilometers inland from the sea. It is a truly massive river, a good deal wider than the Mississippi River down by New Orleans. From its headwaters in Tibet it has traveled about 4300 kilometers through China, Burma, Laos, Cambodia, and now Vietnam to finally dump its muddy load of silt into the sea. In fact, so much silt is dissolved in the water that the phrase 'too muddy to drink and too thin to plow' might apply to the Mekong as much as it applies to the Colorado River. I wouldn't be surprised if more people actually live on the river in floating villages than anywhere else in the world. It seems as though entire towns have sprung up on floating barrels fixed into place underneath long wooden boards. The rest of the house is simply built from bamboo with palm thatch or corrugated sheet roofs. Other than occasional louvered glassless windows the interior is open on at least two sides for the breezes to circulate through.
Several houses are tied to each other and at the end there is sometimes a floating platform with an old engine that helps maneuver them around. After spending a little time on the river and in one of those floating villages I found that you get so used to the motion of the water that standing on dry land seems weird and almost unstable. Many of these people make their living as fishermen and as farmers on the fertile fields by the river's edge. Floating villages are also impervious to the yearly flood of the Mekong, as the villages simply lift up with the rising water levels. All other villages on land near the river are built on stilts to save them from flooding. A proposed dam on the Mekong River would generate vast amounts of needed hydroelectric energy, but it would also stop the snow melt driven flood cycles that deposit the rich alluvium on the rice fields near the water.
Our trip on the river took about three days to get from Saigon to the Cambodian capital Phnom Penh. Along the way we passed countless little villages and fishing camps and countless little kids stood by the water's edge and waved at our boat. Sometimes we saw nothing but coconut palm trees, but on closer inspection we spotted women washing clothes and kids frolicking in the water. Every inch along the water is seemingly settled.
On a few occasions we had the opportunity to jump from our canopied boat onto smaller canoes and let elderly women paddle us around the countless small tributaries and islands in the river. Inspired by the prospect to make a few bucks by ferrying us foreigners around their surf and turf, these elderly ladies displayed quite the paddling stamina. I was impressed. They even donated the typical Vietnamese conical hats to shield our heads and faces from the hot tropical sun. Through them we saw vast coconut farms and orchards full of tropical fruit trees, as well as little coco nut candy "factories" and noodle making operations. Until that day I didn't know that noodles are made of rice. Now it makes sense why so many people eat noodles in Asia'duhh.
The river side border crossing to Cambodia was actually a pleasant experience where a Vietnamese woman on the boat collected everyone's passports and took care of the visa formalities, while we sat in a shady cabana and let the village kids try to sell us drinks, fruit and all kinds of coconut candy. I found the Vietnamese kids very endearing, very sweet, easy to please, and always ready to make a buck. Even the smallest little tykes hawked some trinket. Across the border in Cambodia, the kids were equally endearing, but even more eager to make a buck. Born capitalists, they would come out of the woodwork (literally) at the sight of a foreigner and in excellent English belt out "Hello mister, you buy, very cheap, you buy, only one dollar, mister you buy!" Whereas before a simple "no, thank you" or a wave with the hand was enough to be left alone, here it was just the beginning. I found myself chased by kids of all ages and sizes. Stopping and talking to them attracted hordes more and I had a great time being poked and pushed and tickled by these laughing kids, all trying to sell something. On the occasion when I did actually buy something, it caused a little riot because everyone clamored to sell their ware. I even had to stop a couple of fights among competing boys.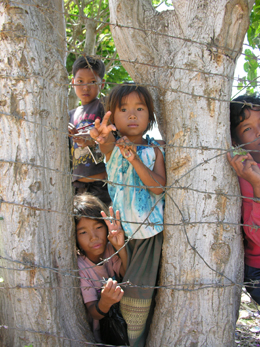 Late one evening we did reach Phnom Penh and found a guest house very easily. Cambodia is just opening up to the world and there are little guest houses and bars and restaurants popping up everywhere. Surprisingly, English is widely spoken, albeit very heavily accented, and virtually every sign has the English translation of whatever is stated in Khmer, the Cambodian language. The people of Cambodia look nothing like the Vietnamese, rather they have inherited heavily Indian features and a strong Buddhist culture. Curiously, I noticed a profusion of very fancy cars of the sort you would not find so easily in Vietnam. Range Rovers, Lexus Landcruisers, S class Mercedes, 7 Series BMW and even Cadillac Escalades abounded.
How can the people of one of the poorest countries in the world afford such cars? Cambodia doesn't have much of a drug trade to explain it. I was at a loss until one foreigner filled me in that these luxury vehicles are subsidized by the massive foreign aid package that Cambodia receives. Presumably they must be people somehow connected to the government. However, the vast majority of the population seems to live in extreme poverty and in constant fear of landmines. Millions of these were strewn over the entire countryside and it will take several decades to remove all of them. It's a race against the clock nevertheless, as thousands of people have lost limbs or their lives by stepping on a mine years after it has been planted.
Sadly, Cambodia had been embroiled in civil conflict and in the Vietnam War for several decades, culminating with the brief but exceedingly brutal reign of the communist "Khmer Rouge". From 1975 to 1979, when they were overthrown by the Vietnamese military, this gang brainwashed scores of teenagers to round up and murder all kinds of people in an attempt to convert Cambodia into an agrarian system. The monetary system was abolished and cities were completely emptied and the population forded to labor in the fields and dig trenches. Intellectuals, teachers, monks, healthcare personnel, city people, entire families were simply murdered and buried in mass graves. One such place, known as the Cheung Ek Killing Fields is a collection of unearthed mass graves and a large pagoda containing the bones and skulls of thousands of victims. It's a very sad and sobering place to visit.
Nowadays, Cambodia has a very lively feel to it, even though many government commissions still search for the "truth" and what has happened to all the murdering teenagers and leaders of the Khmer Rouge. It seems that many simply melted into the country side and are now leading quiet farming lives. Likely they will never be brought to justice.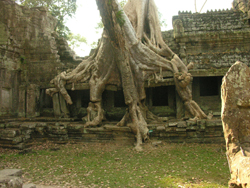 Right up there with the Egyptian Pyramids and the Great Wall of China ranks the sprawling temple complex of Angkor in central Cambodia. Built from about 600 AD until the 1400s this collection of crumbling Buddhist temples is simply a stunning place to visit. Dense jungle has completely overtaken some of the sandstone structures and huge trees are growing right through ceilings and toppling walls. There are many foreign sponsored reconstruction projects going on, but it looks like it is another perpetual battle against decay and encroaching jungle. The crown jewel of Angkor is the temple Angkor Wat, surrounded by a lake size moat and high walls. Inside, it houses five massive sandstone domes and a sprawling complex of libraries, prayer rooms, and hallways.
Many monks still actively pursue their quest for enlightenment in front of the numerous sandstone Buddha statues. The aroma of burning incense permeates every room of the temple. The various temples, built during various centuries are a couple of miles from each other, with forest and rice fields in between. It takes a car or motorcycle to cover everything and one day is barely enough to scratch the surface of this amazing religious institution. Thankfully, outside virtually every temple were kids hawking sodas, water, food and trinkets. Not so thankfully, virtually all those kids run every foreigner down and follow them around in the hopes of making a sale. In a way, I don't blame them.
Cambodia has a virtually untouched rural side to see, but time is short and we decided to push on to the Thai border. By all travelers' accounts the road to the western border is ruthlessly rough and slow. During the dry season the road was actually very passable, but extremely dusty and bumpy. Our old bus groaned its way through at a blistering twenty miles an hour or so. The windows couldn't be opened, as choking dust entered. The ventilation system blew almost the same amount of fine dust inside and, combined with the sweat, everyone was coated in a layer of thin mud by the time we reached the border town of Poipet. Most passengers remained stoic throughout the ride with the exception of a group of whining Australians. Australians?! I thought they could handle this coming from their country with so much dusty outback. But that would mean that all Americans wore cowboy hats and rode horses.
At the border we stood in line for a very long time for the immigration formalities, but this time no kids entertained us. I just watched jam packed Trucks cross into Cambodia with all kinds of goods and empty ones back into Thailand. Just by this flow of goods one can tell that Cambodia is still a developing nation and has a ways to go before it can become self sufficient. Let's just hope that the shameless corruption within the government ranks doesn't ruin the positive that might await this nation, that has bled and suffered so much.