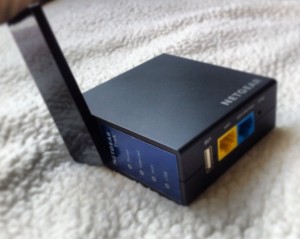 With Internet access often a challenge during travels around the world it was with great interest that I accepted a Netgear Trek N300 Travel Router and Range Extender when the company reached out to me. I have long been familiar with Netgear having used some of their products since the mid 1990's back when a little Internet Service Provider some friends and I own was just starting out by offering dial-up access.
This particular router is fairly lightweight and compact – the antenna flips out when needed. This device can powered a variety of ways including via USB, mini USB or directly into an electrical outlet. It can connect either via wireless or a LAN cable.
I had a chance to test this router recently on a trip out to the desert (Desert Hot Springs, California). For me its greatest value is being able to extend the range of an existing Wifi signal especially on the road where regardless of the country, Internet connections can often be problematic.
The device can also be used as a "Bridge" – either via Wifi for other devices or via Ethernet cables to other devices.
For more information and to purchase, visit: www.netgear.com/home/products/networking/wifi-routers/PR2000.aspx