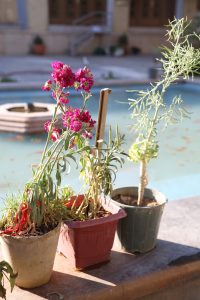 … the smell of citrus blossoms – the fragrance that follows you as you pass numerous orange trees planted as urban vegetation on city streets. It is the smell of running water on hot sidewalks as a young man washes his motorcycle. And the mulberries – I am reminded they are among my favorite fruits – yet I rarely get to gorge in this capacity. They are beginning to ripen, their sweetness runs all over one's fingers – their flavor only leaves me craving more. I find black ones, white ones and white and black ones. I pick only the ripest – and am joined by several happy children who jump up to reach the ripe fruit.
It is the smell of freshly cut grass among the gardens surrounding the Tomb of Hafez. Then it is over to the Shah Cheragh mosque. This is a very special and spiritual place – housing sacred tombs of brothers Ahmad and Muhammad. Women visitors don flowing white and black coverings. The smell in the courtyard is of water on dry dirt as an old man fills up a watering can and slowly moves between flower beds. Children pose in front of the reflecting pool one at a time and request I take their photograph. I willingly oblige.
A very spiritual spot. The amazing Shah Cheragh mosque in #Shiraz Iran. Hard to leave this place 🙂 pic.twitter.com/sG3q3sMFIt

— Dave's Travel Corner (@DaveDTC) April 23, 2016
#Islam has a lot to offer. If radical #Muslims just take time to learn of it the world can be a much better place. https://t.co/VxApVibvTX

— Porfirio Castillo (@Pilohan) April 25, 2016
The clarity of the sky – broken by wispy spring time clouds. In the evening the tender light takes hold – orangish at times and full of warmth. This is weather I wish I could chase around the planet all year long.
The fruit vendors sell fresh oranges, watermelons and other ripe melons. Sometimes I smell their fragrance as I pass by. I spot huge bags of fava beans sitting on the sidewalks.
And it is visits to the ancient sites of Persepolis and Necropolis – an hour drive outside of the city.
Then it is the warmth in the evening – not yet summer searing heat but perfectly pleasant heat that is ideal for strolling among the various bazaars in the city centre.
Now is the time to be in Shiraz!
Necropolis, home of the ancient tombs