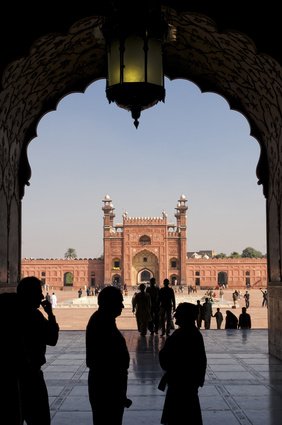 If you take a fact file about Pakistan you will see the Islamabad is the official capital with its planned streets and neatly organized suburbs. You will also find Karachi mentioned as the economical and industrial capital with its huge twelve million people, bustling streets and polluted atmosphere. A city you may not find mentioned in that book is Lahore the cultural and spiritual heart of Pakistan. This ancient city on the bank of river Ravi has seen it all; Great rulers, wars and a lot more but one common factor has always been the thriving cultural aura that surrounds the city.
The Mughal dynasty ruled over the Indo-Pak sub-continent for several centuries, from the early 1600's to the time of deposition of the last mughal king in 1857. Apart from the early Mughal kings who included military geniuses like Baber, Arangzeb and Jahangir most mughals were very ineffectual rulers militarily. However all including the last king Bhadur Shah Zafar II were great lovers of the arts. They left lasting marks on their kingdom including the city of Lahore. The magnificent "Shahi Killa" (Royal Fort) and the Royal mosque of Lahore are testament to their love of architecture. The mosque especially is beautiful must see for every one. It is made entirely of red sandstone and has the largest court yard of any structure of any building in the world.
If you are more interested in oriental arts you will not be disappointed in Lahore which has a host of such activities. These range from plays to classical dance to classical music. The Alhamra Arts and Cultural complex has a host of such activities continuing around the calendar; Look out especially for the annual "World Music Festival" and the annual Puppet Festival. As well as these there are a host of other performance arts events held and plays organized by the National College of Arts are especially worth seeing.
There are a whole host of Art galleries in Lahore which feature many talented artists. A word of advice apart from the few established artists there are several new extremely talented artists whose paintings are very affordable. So if you are looking for decorations for your home and want to avoid the trite and hackneyed yet still not break you budget then Lahore is the perfect place.
For the party animal there is always the annual "Basant" or spring kite festival. This is held in early march and is a huge city wide celebration welcoming spring. People come from all over the world to join with the city wide party that goes on for a whole week end day and night. The festival is dedicated to kite flying, if a peaceful vision of a white kite fluttering in the sky in a summer breeze comes to your mind; perish the thought. The kite flying here involves an extremely competitive sport of trying to cut other peoples kites down using special strings. The relatively cheep kites (Costing 5-10 cents at the very most) are purchased in huge amounts by people who then invite all their friends and acquaintances come to a roof top party and fly kites. There is music and dancing and every time a kite is cut the whole gathering yells "Bokata" in celebration. When ever Lahoris get together there is bound to be delicious food. Nothing stands between a lahori and his food. It ranges from delicious kebabs, to halva puri, nehari and a lot more. A note to weight watchers; please forget all about dieting if you come to Lahore because there is no way you can resist the temptation to eat tons.
Travel Notes
A lot of people speak English and most signs and notices will be in English also so language is not usually a problem.
Hotel rooms cost
Book hotel rooms well in advance for the basant festival as every thing is sold out