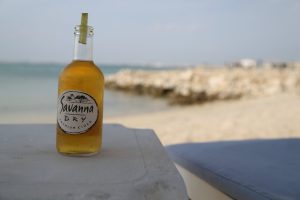 Looking to capitalize on some unseasonably December weather in Bahrain I decided to make a day trip from Manama to the tiny Dar Islands, just off the coast of an industrial section of the country called Sitra. You come to these islands for relaxing and to enjoy the water – taking breaks from the searingly intense summer heat.
A variety of activities are offered – including diving for pearls, kayaking and snorkeling. And there is a special type of "party" boat for rent. The main "boat" is in the shape of an inner tube with seats surrounding the center with a small table in the middle to hold drinks. And an outboard motor is attached to it for optimum cruising in the local bays!
Arriving via speed boat I hopped out onto the dock and immediately saw thousands of fish the length of human fingers schooling in the water. They were so thick at times the water appeared completely black – they were everywhere!
Spotting empty beaches surrounding several calm blue water shallow bays it wasn't long before I was sending photos to friends and family with titles like "living the dream" "wish you were here" etc! Course it didn't hurt I had already enjoyed several bottles of hard cider.
The island is obviously setup for plenty of visitors – with cabanas located around each of the bays, a fully stocked bar (much appreciated), kitchen and servers catering to your every whim (collecting your orders and bringing food and drink directly to your beach chair).