"Traveling to far away places is one best antidote because it heals life pressures; and there are literally countless destinations around the world which would do it. What is more important is that you bring that travel experiences to life–through diaries or photos, or simply by writing them in a story–tell the world about it, and such nostalgic memories will live on." ~The Author
Nocturnal Road Adventure
The journey starts as I together with Proel, Joel and Faith drive through the murky highway of Misamis Oriental (northern part of Southern Philippines) heading to the realms of Agusan and Surigao, also known as the Carraga Region. The pacific night needs us to pull over at the quayside of Balingoan for a late dinner. Starry sky with silvery moonlight shines over the sea sides as we meander in the island, looking for a place to dine in.
"How much longer do we have?" I ask. "About 3 to 4 hours," explains Proel as we find ourselves taking on some tasty grilled cuisines, "and that lengthy road will probably get us to Butuan City by 1:00am."
The port of Balingoan town has been a destination for travelers gaining access to Binoni, a seaport in Mahinog in the enchanting island of Camiguin. I wrote about it 2 years ago; the island is simply marvelous. "You'll be with us in Camiguin when our reunion comes late next year," Proel and Joel continue, "and you're gonna be writing again about that island."
The night turns ever deeper as we leave Balingoan and pass through several towns of Misamis Oriental crossing the threshold of Agusan del Norte. I peer out the car window and see the driving trail that sometimes snakes into the mountainside. At my left displays the tranquil and calm seawaters; green trees are still vivid as they are lit by the night's silvery moonlight.
Lake Sightseeing at Agusan del Norte
We arrive in Butuan, the capital city of Agusan del Norte, as expected. This time, we skip though the place and proceed to Surigao City. The 8:00am travel allows us to pass by a number of Agusan del Norte towns and stop off at "Almont Lake Resort". Such resort in San Roque, Kitcharao gives a panoramic view of Lake Mainit, the country's fourth largest lake and also is the deepest, shared between the provinces of Agusan del Norte and Surigao del Norte in this northeastern part of Mindanao.
Lake Mainit has a surface area of 173.40 square kilometers and a maximum depth of 223 meters. In my conversation with the resort's staff, I've learned that the vacation place offers meeting and banquet facilities. "This resort has been visited by several foreign nationals from Russia, Japan, Germany, and Australia," one resort employee tells me. The lake makes a perfect backdrop for any one visiting the resort; and there are kayaks, speed boat, aqua bike and fishing gear available.
One more likable point of destination in connection to the lake is the "Mainit Kasili Lakeside Resort" in the Municipality of Mainit, Surigao del Norte that began its operation last December 14, 2009. The resort has 56 air-conditioned rooms, 3 swimming pools, a convention center, a tennis court, and a restaurant that caters dishes made from fish caught in the majestic lake. "Kasili" literally means "electric eel", the kind of fish found abundantly in Lake Mainit.
The Islands of Suriago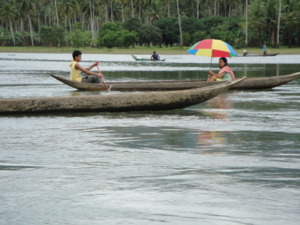 We reach the heart of Surigao City at around 1:00pm. This capital of Surigao del Norte, located in the northeastern-most tip of Mindanao, has warm weather and its closeness to the Pacific Ocean provides several activities around its islands, beaches, caves and coconut-hemmed villages on stilts. Though not having enough time to explore the entire place, this location is an ideal jump-off point to tourists visiting popular adventure islands of Siargao, Dinagat, and Bucas Grande.
The fleeting time I spend in Surigao enables me to roam around the city proper, dine in at its food shops, take photos on its park, and visit some shopping stores. Surigao City has 26 restaurants and fast-food chains; 25 malls, shopping stores and centers; and 14 hotels.
Besides its abundant scenic spots made up of different collections of beaches and island hopping destinations, Surigao, too, has mangrove forest, cave for spelunking, rock and coral formations, lagoons, and waterfalls. It has copious mineral reserves including gold, iron, manganese, cobalt, copper and among the world's largest nickel deposits in Nonoc Island.
Another thing which can be considered as Surigao's treasure is its historic location. It was through Surigao Strait that the fleet of Ferdinand Magellan sailed into the Philippine Archipelago, reaching the island of Homonhon, in an epic voyage of discovery and eventual circumnavigation of the world in 1521. It was also here where the "Battle of Surigao Strait" during World War II took place (October 24-25, 1944), in which American, Filipino and Australian armadas ferociously fought against the Japanese fleets.
Butuan's Ancient Legacy
Twilight is now about to appear as we run off the doorstep of Surigao heading back to Butuan City. "We are running out of time," Faith says reluctantly, "our activities for Butuan should start off tomorrow." We just go back straight to Remedios T. Romualdez (a town in Agusan del Norte just close to Butuan) where we previously stay, take some dinner and rest until well into the night.
The following morning finds us roving around the metropolis, visit a church convent and stop at its famous museums. Perhaps the most important thing for Butuan is its history, culture, arts and people that date back to the 4th century as evidenced in its museums, which makes the City of Butuan an exciting source of cultural artifacts in Mindanao.
One dependable source says that as early as the 10th century, people from Butuan had already set up trading relations with the Kingdom of Champa (now South Vietnam). Consequently in the 11th century, Butuan was the center of trade and commerce in the Philippine Islands. This is proved by the discovery of 9 "Balangays" (or ancient Butuan Boats) and other archeological evidences now well preserved in the city's museums.
Two historical and famous museums in Butuan include: the Balangay Shrine Museum which safeguards the graveyard of "Balangay 1" dated 320 A.D. or having the age of 1,690 years. The archaic wooden boat measures an average of 15 meters in length and 3 meters wide across the beam.
The other one is the Butuan Regional Museum–the repository of historical and cultural materials and artifacts–that proves Butuan's prehistoric existence and rich cultural heritage. It puts on view specimens of stone crafts, metal crafts, woodcrafts, potteries, goldsmith, burial coffins, and other archaeological diggings.
For almost a decade, I've already traveled extensively within the three principal islands of the Philippines and have written numerous stories about them. As my days in the country are running out, I know there are more natural wonders in the Philippines that need a visit, and I would exploit every opportunity I would have to explore them. My experience in the Islands of Carraga is incredible; but they are just one of the many wonders that exist in Southeast Asia.
"With thanks to Joel, Faith, and Proel; Hon. Guia F. Paeste, SB Member of the Municipality of Remedios T. Romualdez, Agusan del Norte; and Bob Alarin (SFO) of Butuan City."