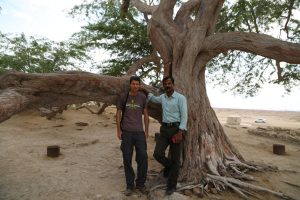 Today I headed out to explore the island with my driver Babu. Babu, like many expats who have come to Bahrain is from India – and came here to take part in the construction boom a number of years ago. He worked his way to supervisor – the boom ended and now works with the hotel I am staying at to drive people around the island. He asked me how difficult it was to get a visa to the USA. I had to tell him for a single man like himself, it could be an insurmountable challenge – but I gave him my card in case he needs a stateside contact. We visited a number of Bahraini highlights today.
"Tree of Life" is an approximately 400 year old tree that grows on top of what appears to be a raised sand bar. This tree grows in the middle of the desert in a part of the country that is surrounded by the oil and gas industry – pipelines, oil wells and other related equipment lie scattered across this part of the desert – oh and a number of canvas tents which reminded me of the habitations of the nomadic people we visited in North Eastern Yemen. But here, apparently camping is a popular activity this time of year and people from Manama make the very short trip out here for an escape to the desert from the nearby urban jungle.
Qal'at al-Bahrain or simply, Bahrain Fort provides a sharp juxtaposition with the dominating modern skyline in the background. People have lived on site since 2300 BC and excavations have revealed many layers of human in-habitation throughout the centuries. Tourists visit because of it's unique history and restoration – locals visit because there are a number of vegetable gardens nearby; I saw several people haggling over prices for fresh veggies picked right in front of them.
The Grand Mosque is impressive both inside and out. Visitors are allowed to enter.
Another worth your while stop is Muharraq Souq; it is like a walk back in time – with narrow tiny streets carved among the white buildings – with vendors selling everything from gold to spices to tires. I spent an hour wandering these streets aimlessly, at on point pausing at the smells from a flat-bread vendor wafting through one of the alleys. Men were lined up waiting patiently to purchase this bread, fresh, and directly from the oven.
The edge of the water was calling my name – so I wandered out of the souk down to the rocky shoreline where a couple of dilapidated boats were floating – probably sitting here for years watching the city's skyline dramatically take shape in a vertical direction. The musty smell of brine, algae and heat combined made me want to jump into the water.
I then returned to this souq in the evening but to a neighborhood that has been completely restored with outdoor art, ornate wooden doors, coffee shops and creatively designed interior decorating that would hold its own to high end interiors in any big city on the planet.