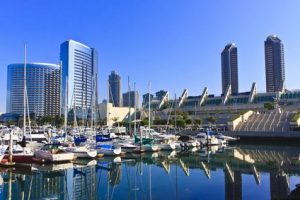 There is an abundance of romance in San Diego. Known as America's Finest City, this southern California destination boasts over 70 miles of glistening coastline, world class beachfront dining and iconic hotels dripping in nautical charm. Romance is around every corner from couples taking a sunset stroll along one of the ocean piers to young lovers having a first kiss amidst the palms of Pacific Beach.
It doesn't have to be a special occasion to celebrate the one you love in San Diego. With so much natural beauty, it's easy to make a casual night out into a romantic evening sitting by a beach bonfire or enjoying each other's company over a cocktail at a rooftop lounge. No matter what the situation, there are plenty of places in San Diego to indulge in some romance.
Best San Diego Beach For Romance
Pacific Beach: Although Pacific Beach can be crowded during the day, it's a great place for a sunset stroll down the wooden Crystal Pier. The views are unforgettable and sunsets of San Diego never disappoint (especially in the fall). This area is popular for young couples looking for romance who don't want to spend a lot of money. There is nothing more romantic than watching the sun dip into the pacific from a charming wooden pier.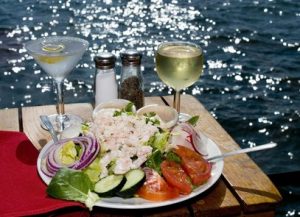 Best Romantic San Diego Restaurant:
The Marine Room: Located on the beach of La Jolla, The Marine Room is a unique San Diego dining experience. Lovers can enjoy mouthwatering cuisine as they watch the waves at high tide crash on the windows of this ultra romantic restaurant. The stunning coastal community of La Jolla is home to some of the world's best beaches and eye catching views. No other restaurant in San Diego puts you this close to the water for excitement and romance in a fine-dining setting.
Best San Diego Hotel for Lovers:
The Grand Del Mar: As San Diego's first and only 5-star resort, the Grand Del Mar doesn't disappoint. 5-star dining, an incredible spa, countless amenities, activities and stunning accommodations make this one of the most romantic hotels in the world, let alone San Diego. Mediterranean architecture combines with a beautiful location in north county San Diego at the Grand putting guests just a short drive from some of the most beautiful beaches in southern California. Nestled in the coastal foothills of San Diego, couples can escape at the Grand Del Mar with four heated swimming pools, a top-notch spa, horseback riding, a golf course and Club M, a vibrant upscale nightclub for a fun night out. Leave the stress of daily life behind and lose yourself in the luxurious romance of the Grand Del Mar.
Most Romantic Thing to Do in San Diego:
Dinner Cruise on the San Diego Bay: There is nothing more romantic than cruising the San Diego Bay on a starry night. Local companies like Hornblower and Flagship Cruises and Events offer dinner cruises to take couples out for a night of pure romance. Guests enjoy exquisite meals and spectacular views of the glittering lights of San Diego as they are wined and dined from the comfort of a yacht on San Diego Bay. Feel the wind in your hair as you cuddle up to the one you love from the deck of a cruise ship with an amazing dinner cruise in San Diego.