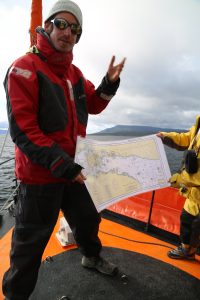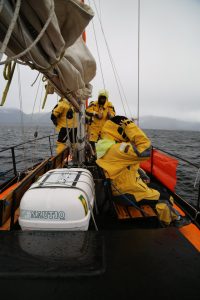 I wandered into one of the small tour operator huts down by the harbour in Ushuaia this afternoon to escape the rain and the cold. After inquiring about one of their tours I was soon booked for the next morning – a sailing trip through the Beagle Channel on the Paludine. Allowing only 8 people maximum on board, these sailing tours are intimate and a great way to see the wildlife.
After an hour drive on both pavement and a graded dirt road we arrived at a small harbor next to the Beagle Channel. With a nasty wind chill and a temperature that was already quite cold, we made a beeline for the cabin where we were given full weather sailing gear and a welcome cup of hot chocolate soon followed.
Arguably the highlight of this trip was to see the Penguins. In a small boat such as this we were able to gently sail to within mere meters of penguins lining the rocky shores of Martillo Island. Several types of penguins make this island their home including Magellanic Penguins and several types of Papua Penguins.
Cormorant Island is appropriately named – several small rock islands are literally covered in Cormorants. Flocks of birds scatter as our boat approaches and for a moment a ray of light shines through the nebulous darkness of the low lying cloud cover. We all scramble on top deck for a few photographs.
The captain and our guide Nicholas were excellent hosts and very knowledgeable about the wildlife.
Trip Tip: dress very warmly!
For more information visit: www.facebook.com/Paludine