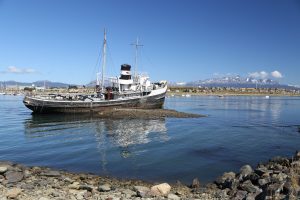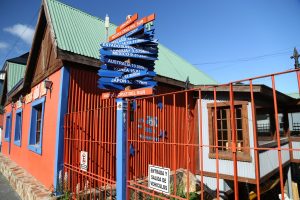 After four days in a row on a plane, two of which were overnight flights I have reached El Fin del Mundo, Ushuaia – the world's southernmost city. Flying over Tierra del Fuego, we were treated to spectacularly clear views of the jagged mountains, glaciers and lakes – ultimately reaching the bays near Ushuaia and dropping into the small airport on a nearly cloudless day.
My visual research prior to this trip indicated Ushuaia is rarely clear and most of the photographs I have seen of this city were taken when the sky was covered in clouds. I was totally expecting this gloomy weather so I was completely surprised to discover this was not the case. Despite being rather exhausted from the multiple days of travel I decided I would explore as much as possible under this clear sky.
There are several restaurants in town that specialize in seafood – tanks containing live crab and other seafood are the objects of tourists' attention as they walk by – especially the tour groups that gather around with their cameras. I chose one restaurant overlooking the bay and enjoyed a huge plate of seafood – mostly cooked garnished with some raw salmon.
It drew glances from nearby diners who I then noticed ordered the same thing!
The HMS Justice (W140) or St. Christopher is a USA built ship that has been grounded and abandoned in the bay in front of Ushuaia since the late 1950's. From here, I could see far across the bay to the glacier covered mountains in the distance. Wanting to get up to one of the glaciers, I was told to visit Martial Glacier. A short taxi drive from the main part of town brings one to this trail head.
The round trip hike only took me about 90 minutes – fortunately all the training I had done prior to this trip in Thailand paid off as I attacked this trail rather rapidly! From this hike there are excellent views of Ushuaia far below – by the time I reached one of the tongues of the Glacier it was late in the evening, the wind had kicked in and it was chilly.
Luckily there was still one taxi waiting at the trail head parking lot.
Crashing hard that night, I picked up 13 hours of sleep.