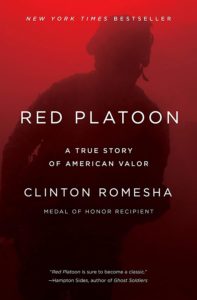 Written first hand by Medal of Honor recipient, Romesha details one of the most intense firefights during the war against the Taliban in Afghanistan. Part of the Black Knight Troops in 2009 ordered to shutdown the most remote US base in Afghanistan, Command Outpost (COP) Keating. Located at the bottom of a canyon, surrounded by steep hillsides in all direction, this camp was constantly the target of attacks by Taliban fighters.
However the sh## hits the fan so to speak on October 3, 2009 when the Taliban coordinated a massive attack, all at once against Keating. Leaving the US troops to fight for their lives and defend the camp through an intense firefight. Part of the camp was over run by infiltrators, 8 US soldiers died that day. This book is a roller coaster of a read with readers soon completely and grossly engaged in its pages that all distractions become secondary.
One will not be able to put down this page turner until the very end. Best set aside an entire day with food and water easily available next to the book. The bravery and split decisions of Romesha and his men were absolutely remarkable. Riveting does little to describe the intensity of this 14-hour firefight.
To purchase this book, click here