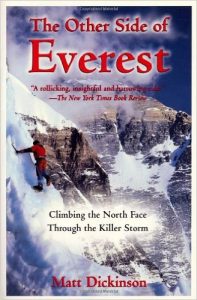 The Other Side of Everest by Matt Dickinson This gripping tale is told by a fairly novice climber (at the time) who summits Mt. Everest from the north side during the infamous climbing season of 1996. He joins a team from the UK to film an Everest expedition.
Ultimately he along with the UK's most famous high elevation climber, Alan Hinkes and three Sherpas are thrown together after a number of their group drops out.
They all summit – this book is a must read for anyone enthralled with the idea of climbing Mt. Everest.