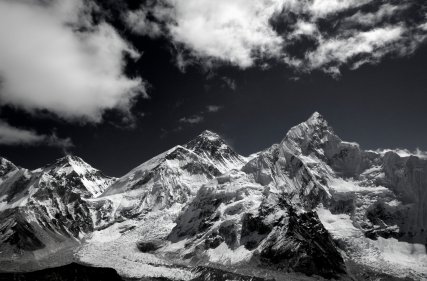 This morning I experienced strange tinglings in my feet and face as we waited to board a small plane to Lukla. When someone else described having the same sensations, the doctor on our trip confirmed the classic side effects of altitude sickness tablets. After take-off, however, the discomfort was forgotten as we flew through scenery so stunning you felt you could reach out and touch the snow-topped mountains. Within about ten minutes of landing we were having breakfast (pancakes washed down with black tea) and breathing in the clean mountain air – such a contrast to Kathmandu. Then it was an easy downhill to Phakding.
Day 4 Hiking up to Tengboche, we caught our first glimpse of Everest. The altitude has really kicked in – we've all gone from walking in shorts to wearing layers, and by the time it gets dark we're huddled round the fire wearing gloves, hats and a couple of pairs of socks. There was ice on the inside of our guest house windows, but the view and watching the sun rise and set over Everest and Khandaka made up for it.
Day 5 We've just taken in a German bakery – best tea and chocolate doughnuts I've ever tasted. We're at Dingboche, at 4410m. It's in a valley, so it's warmer than last night.
Day 6 We're almost a week into it, which seems like a long time without achieving anything (despite the fact that every day is an achievement in itself). It's tough to focus on that when you're cold and feeling in dire need of a shower. The sun came out at one point this afternoon and I persuaded my husband to stand outside and pour icy cold water to allow me to wash my hair – simple, but I felt better than I had for days.
As we continued we could see Island Peak, Makalu (the world's fifth highest peak), Lhotse and Ama Dablam, all mountains I've read about. The nights are now so cold and with no running water inside I almost couldn't face brushing my teeth. All reading and writing is being done by torchlight, which isn't easy but in a way it adds to the fun.
Day 7 Today we spent about six hours huddled round the dining room fire trying to keep warm and passing the time reading, writing and chatting while a blizzard raged outside. Later, we arrived at Lobuche at 4930m to find our dorm room had two beds in it – so five people slept on the top and five on the bottom. Nobody got much sleep that night.
Day 8 Clear weather, with ice on the river. The sun was shining and everyone's spirits lifted as we did an easy downhill to Gorak Shep. After a chicken soup lunch – welcomed like a gourmet delight – we set out for the first of our major goals: the summit of Kala Patthar, which is billed as the best place to view Mount Everest. As we started to climb, the clouds started rolling in and half way there our guide offered us the chance to turn back. Everybody did except me. I was feeling great and I wanted to reach the summit. Sitting on the top with the snow coming down looking at Mount Everest was awesome. Just as we were about to go back down to Gorak Shep the cloud cleared, giving me the most amazing views of Everest which was so close I felt it was almost in my grasp.
Day 10 A horrendous night's sleep last night. Trekking today was very tough. In this kind of uneven terrain you really need to keep your wits about you, but I had reached the point where I felt so tired it was all I could do to put one foot in front of the other. Base Camp came into view at almost the same moment as a stunning view of the peak of Everest, totally clear of clouds. Finally, nearly four hours after leaving Gorak Shep, we arrived. We were all elated to be there, but it was an uninspiring camp: we were standing on what's basically a pile of rubble, with nowhere flat to even sit down comfortably. Still, nothing could detract from the sheer elation we all felt at having made it to Everest Base Camp.