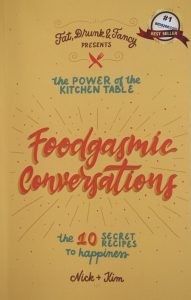 This is a story of family, food and great conversation, complemented with recipes that have been handed down from the generations by the author's immediate family or their friends. Connecting memories to these recipes Kim and Nick take turns sharing individual stories. As we read through each story, we can vividly hear Kim and Nick speaking (authors note: we personally know both Kim and Nick); their passion for food, family and friends is as real in this book as it is in real life.
As Kim states, "…but when it comes to the power of the kitchen table, what's personal is universal." This book will especially appeal to anyone who is a foodie or enjoys gatherings centered around food and wine. Valuable life lessons and pieces of wisdom are sprinkled throughout each chapter including their 10 secret recipes to happiness.
While this book highlights a number of treasured family recipes, it is also very much a recipe about how to live one's life.
For more information and to purchase a copy, visit: www.fatdrunkandfancy.com