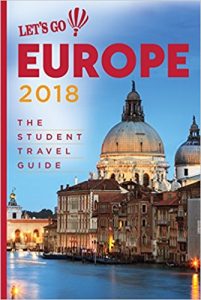 Let's Go Europe by Harvard Student Agencies has been publishing travel guidebooks for students for more than 50 years. What is unique about this publisher is the fact that all the research and writing is conducted entirely by students – Harvard undergraduates. This guidebook, focusing mainly on Western and Central Europe is the culmination of the work of 20+ student researchers/writers. They scoured the continent for hostels & hotels, cool coffeehouses & cafes, museums, nightlight and much more (1220 pages to be exact!).
This guide is fine for those planning a trip of a few weeks but even more importantly is its exhaustive coverage for those planning a much longer trip, such as a gap year or semester abroad. A special chapter deals with volunteerism, ecotourism, study abroad and work opportunities. Suggested itineraries are listed for various schedules and countries.
Other essentials are provided including city maps, metro maps and …even the best spots to see dead people! "Let's Go" guides are the go to guidebooks for student travel.