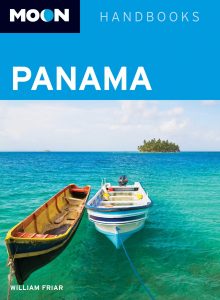 Moon Panama by William Friar This detailed guidebook to Panama includes sights, activities, hotels, restaurants and much more. Invariably when one thinks of Panama two words come to mind, "Panama Canal". However there is much more to see and do in this small but rich Central American country. There are several well thought out itineraries available in the beginning of the book
which are cataloged by length of stay and various interests.
Did you know that Panama City is one of the most cosmopolitan modern cities in Central America? Moon provides 71 pages as a detailed overview of this intriguing city. Be sure to also read the "essentials" section located towards the back of the book and find out how to avoid ending up in the other Panama City in Florida! A short guide to helpful Spanish words and phrases is located in the back of the book. This is a must have book for those planning a trip to Panama.