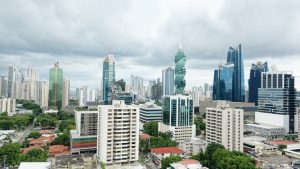 Arrived in Panama (my last North American country to visit) after a very quick break between the Egypt trip- looks like the main city is booming – cranes and towering skyscrapers (some in progress) are lined up all along the shoreline. We are staying in an upscale International chain hotel but with a twist. There is large color photo that spans the length of the wall of semi nude women. Ummm yea.
Panama has their own currency, the Balboa – but here in Panama City at least the main unit of currency is the US Dollar. It is used everywhere and is what you receive when you use the ATM machines.
We visited the great Panama Canal today at the Miraflores Locks which anchor the canal's entrance to the Pacific Ocean side of the country. This has been a major shipping channel since it opened in 1914. Today thousands of boats pass through its locks each year – the cost of passage is dependent on weight, ranging from a few dollars for the person who swam through the canal to $250,000 for the largest of the boats which pass through daily. Small boats such as sailboats are supposed to pass through at night. The Panamanian flag must fly from every ship which passes through the channel.
A play by play was called out in both English and Spanish as the large cargo ships passed through the locks. At one point a Chinese ship came by and we waived to the sailors on the top deck. The Panamanian announcer shouted out greetings in Chinese.
Some years after the Panamanians took control of the canal the country voted to expand the canal. Today several new locks are being built on both the Pacific and Atlantic side to accommodate wider and larger ships. This project is supposed to be completed in 2014 (century mark after the canal opened) and will be an additional source of revenue for Panama.
Here are a few photos of the trip so far – not much sunshine 🙁