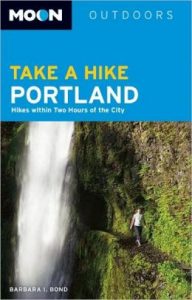 Moon Take a Hike Portland by Barbara I. Bond This latest Moon Handbook spotlights Portland as an "outdoor" city – with over 37,000 square feet of open space.
What better way to explore all this than by hiking. This book highlights some of Portland's top trails by category. Examples include best bird watching, best "butt kickers", hikes with children, "peak baggers" , waterfalls, wildflowers and best views. The trails are organized by different regions in the area and photographs and important trail information accompany each description.
Be sure to read the "hiking essentials" chapter in the beginning of the book. For outdoor enthusiasts, this is a must have book for both residents and visitors alike.