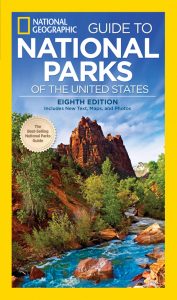 This is the 8th edition of this guide – released in time for the National Park's 100th anniversary. This is a best seller – since first released in 1989 this guide has sold over 125 million copies! In order to update this edition, contributors revisited all of the 59 National Parks.
The guide is divided by parks located in the East, Midwest, South Central, Southwest, Rocky Mountain, Pacific Southwest, Pacific Northwest and Alaska – and its massive swaths of land within National Park boundaries.
Not only does this guide highlight the incredible beauty of these national treasures but provides practical advice for visitors including hours, fees, maps, suggested itineraries, and lodging options including lodges, hotels and campgrounds within the parks.
When you pick up this book you can't help but be motivated to take a road trip across this expansive country to witness first hand its unique and diverse natural beauty.
Get outdoors, get out hiking, get into nature. This book will help you do that!
To purchase a copy