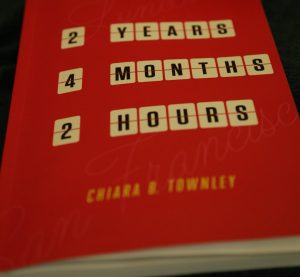 2 Years 4 Months 2 Hours is story of love based on passion and persistence. It all started when a young Italian woman (author Chiara B. Townley) working in a hotel in London spots a young American guy (Tyler Townley) staying at the hotel. They share a glance at one point but never speak. She then writes him a note which her co-worker personally delivers on her day off. Their relationship starts there – and is built over time based on this one-time fleeting contact in the lobby of the hotel.
Their relationship is initially created over the common ground of travel and the book begins with a series of emails they share with each other over a span of several months. As one pursues a long distance relationship deeply there is certainly the risk of doing so – emotionally investing in someone so far away with such limited in- person together time – that the relationship must be built on one of trust. Ultimately for it to work one must physically move somewhere to be with the other person. Hardships during these types of relationships are compounded by the distance from each other.
And the story is not all flowers and sweet kisses – long distance breeds complications and at times the read is an emotional roller coaster. However, Chiara is persistent and courageous and pursues Tyler when perhaps others might have given up on such a relationship.
This is the true, at times intensely personal story of a romantic dream that ultimately and perhaps surprisingly comes true.
A must read for hopeless romantics.
To purchase this book