I landed with a thump on a Quantus long-haul flight, back when smoking was allowed and drinking encouraged, like a character out of a Bruce Chatwin novel.
I was ineffably in error while reading my Lonely Planet guidebook on the plane–thinking that "Cairns" was pronounced with an "r" in it, when to local "Aussie" cobbers (not "Ozzies," a common mistake both of Septic Tank Yanks [Americans] and Bloody Pomes [Britishs]), it sounds like a famous film festival held by the Frogs.
In Australia, though, anybody from another country, like France, Italy, and Spain, are all comically considered "wogs" (a term of affection rather than pejoration).
"You're damn right we're protective: Australia is the greatest country on earth!" the balding Australian I met at the JFK Airport out of America tipped me off. He was returning from New York after studying what American delis are like for a "theme" restaurant in a posh suburb of Sydney, featuring bagels, lox, and Philadelphia Cream Cheese ™.
After my girlfriend stormed off worried we would miss the flight—and I lingered to finish my Foster's beer can (Australia's most famous beer because of Paul Hogan commercials, but before the release of "Crocodile Dundee"), correctly gauging when the plane would lift off: on schedule, my new Aussie aquaintance tipped me off.
"You know, most people do not travel to Australia with their girlfriends. . . ."
I wanted to hear more why?
And it was for the opposite reason that most couples avoid countries with local romeos.
With a swig and a smile, he added, "Australia has the most beautiful women on earth!"
I made it to the flight in a drunken beeline, like a smuggler narrowly evading Interpol, with only five minutes to spare. . . .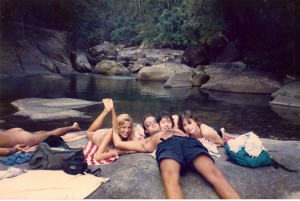 Even though travel to Australia to see Ayers Rock might now sound a little déclassé by the backpacking cognoscenti, back then—right before the release of "Crocodile Dundee" in Australia and its subsequent release in America—nobody I knew knew much about it. Yes, it had the famed Sydney Opera House and the world's largest barrier reef, but who knew that it also had pretty much the longest beaches in the world, roughly encompassing the whole island continents, with such sights as "90 Miles Beach" near Broome, Western Australia, and (grassy) Sydney with its stupendous Sydney Opera House.
After visiting the YHA hostel, where they told me that couples were segregated and have to sleep in different dorm rooms, we stepped away gingerly and tried next door: Caravella's Hostel.
Caravalla's was owned by an Italian momma with a playboy son to welcome all the overseas guests, ranging from penny-pinching backpackers from Sweden and Germany to debutant Sloan Rangers from London.
Right off the bat, I met Joe Sullivan, an American Australian with striking babyblues, who, like Mel Gibson, was born in Portland, Oregon, and emigrated with his family to Australia. (I wondered vaguely if we might be related.)
During our initial convo he impressed me with his religious convictions: "The Great Barrier Reef could not have been conceived without God." I agreed. The scientific method could not be used to evaluate nature, which most people in the hierarchy insist that the earth was created as an accident, an explosion, a big bang! Without being able to come up with any ideas of what came before. . . .
Anyway, I was traveling to find real meaning in my life, right after graduating college and before getting my real first job.
"Helmooooooot!!!" Bill Eccleston from Philadelphia mooed. (Bill was a bartender at Cairn's popular "Backpacker's Restaurant," so later we all managed to get free food, to go along with our smuggled-in pillows of Australian Reisling from the Barossa Valley near Adelaide, South Australia, or Australian Pinot from Hunter Mountain near Sydney, New South Wales.)
Helmut, an obvious Don Juan from Germany, vaguely eyed the both of us, deciding. "I have to do my doodies."
I thought he meant going to the bathroom, but instead he was referring to the fact that to stay in cheap backpacker hostels in Australia one had to do their "duties," such as sweeping up and cleaning the bathrooms.
And then I met one of my first real Australians traveling in his own country. In mid sentence to a query, he responded, "No worries, mate!"
Unfamiliar with Australian argot, I said defensively, "I'm not worried."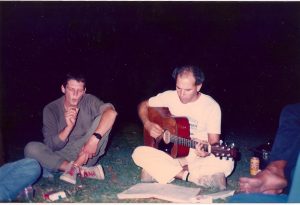 Everybody around realizing the misunderstanding laughed raucously with very kind laughter.
And then I met Joanne, an Australian girl from the planned capital of Canberra, who not only had a perfect body but the blackest hair and whitest skin I had ever seen. She looked otherworldly—and game.
Joanne invited us both to go see the then brand-new movie "CROCODILE DUNDEE," starring Paul Hogan, the guy already famous from the Foster's Lager beer commercials: "Throw another shrimp on the barbee. . . ."
In reality, Foster's isn't really Australian for beer, mate. In Queensland XXXX (pronounced "Fourex" like the rubber) is. Each Australian state has their own beers, and visitors are expected to drink them as an appropriate call-and-response. For example, drinking a South Australia Emu beer in Western Australia would be considered sacrilege.
Like the first day of school, the people you meet in the beginning of your ordeal are likely to be the friends you have for life. A similar thing happens for beginning backpackers who end up knowing everybody by their first names.
But since traveling is a way to reinvent yourself, some go with flash nicknames. For example one of Caravella's long-term guests was an obviously Australian girl named "Beau" with a put-on Liverpudlian nickname, whom months later in Sydney's red-light King's Cross district turned out to be a hostess at a titty bar. Even though she got around, we all got to be pretty good friends with her, some more intimate than others. . . .
And for the dames there was a Swedish model named "Miguel," who to avoid paying for a room at the hostel instead (secretly) slept on the roof, or oftentimes on the floors of various women friends of divergent ancestries, including a knock-out blonde and casino dealer from Adelaide whom he had a habit of gravitating towards on the beach to spread suntan lotion on her back, with magic fingers. The Australian girl, "Andrea," was once described by a burly mustached German backpacker there as having "perfect hips for child bearing."
That was putting it mildly.
Even though I was traveling with my own girlfriend from college, I sneaked in a friend's kiss with Andrea anyway.
Everyday we all got drunk with pillows of Australian Reisling on the mudflats outside the hostel, and then spent nights arguing with girlfriends on the dancefloors of such raucous nightclubs as "The Play Pen" (a.ka., "The Pig Pen"). When a bunch of American warships invaded one day, all the (legal) "prozzies" lowered their prices.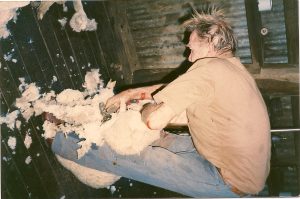 Here I made an excellent assortment of friends. There was Caroline Magee, the daughter of the actor Patrick Magee (the writer guy in a wheelchair in Stanley Kubrick's "A Clockwork Orange"), who abruptly married an American yachty there dressed as a pirate, with she as a witch. And there was breasty Sally Clifford Smith and Tintin-lookalike Pip Raban, both Sloane Ranger debutantes from London, whom I later traveled with in a share-petrol ride in a battered Holden stationwagon in the Outback. And there was great gal Mandy Greatorex, now the lead singer of "Aquamanda." Plus, more people than you could shake a didgeridoo at.
Everyday, outside Caravella's, with my morning breakfast grilled cheese and tomato sandwiches, I passed the sign for a trip to GREEN ISLAND, and finally visited it on the third-to-last day before my visa expired. There on this near outpost of the Great Barrier Reef, I became cozy with a small friendly reef shark, which supposedly do not attack humans without provocation.
On my second to last day, after spending my entire two month visa in Cairns, without traveling anywhere else, I went to an adjunct of the Australian Embassy, which awarded me a further "6 Months" to see the entire continent, which I did, pretty much the whole damn thing, more than almost all the locals I met had visited. With a nod and a wink, the Australian embassy handler, smoking a Winfield Blue down to the stub, added, "Remember: Employment Prohibited!"