Being an aggressively passionate traveler, I have a very low tolerance for mechanical life that comes along with the working environment. This leads to frustration with a need to elope, to explore a new destination.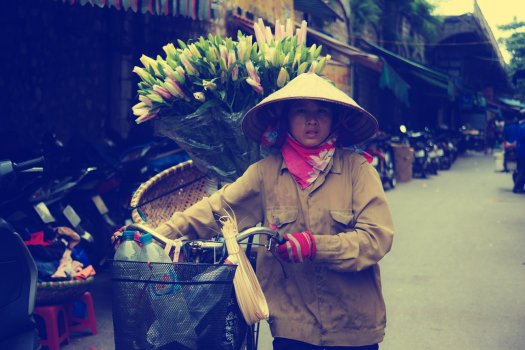 I decided to take a few days off and chose to fly to Hanoi. I was both, backpacking solo and traveling to Vietnam for the first time.
With great excitement I landed in Hanoi. Hanoi is full of life and to me it came across as an extremely photogenic place. The best part about travel photography to me is the people. It gives a story and meaning to the place and my images. The people in Hanoi are extremely expressive. My curiosity towards learning about every new place attracted me to the life and culture of Hanoi. I had six days on hand. As I reached Hanoi with no plan in my head, I took a bus along with a Korean couple that I met at the airport to the Old Quarter.
The local people did not speak any English or very little English. But they were warm and helpful. A local man paid for our bus tickets, as we could not interact with the bus conductor. After having lunch with the Korean couple at a very fancy Vietnamese restaurant in the Old Quarter, I headed to hunt for a cheap backpackers hostel. As I reached the hostel, I already made reservations for Sapa the very same night. It was an overnight train journey to Lao Cai railway station.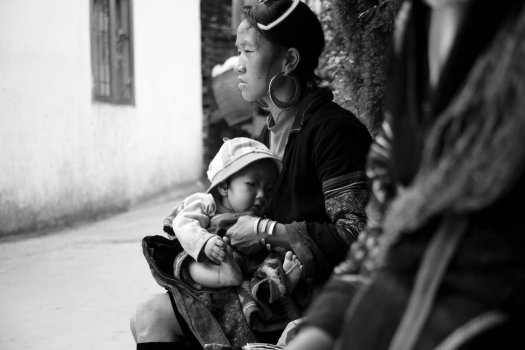 The train fascinated me. I was in a coach with a four-sleeper cabin. I was sharing the cabin with a honeymooning couple and an old Vietnamese man. From Lao Cai I took a bus to Sapa. It was a beautiful uphill journey. I spent two days and a night in Sapa, where I decided to live with the local people in a homestay.
Sapa is an extremely picturesque village overlooking the plunging valley of gushing rice terraces and blossoming vegetation with many hill tribe people. Many different tribes live in Sapa, each can be identified from their dressing. They also speak a different dialect.
Along with few other travelers, some tribal women, I went for a five kilometer trek into the village through the rice paddy fields. An 18-year-old tribal girl, who spoke fluent English, guided us through. It was very scenic and a rejuvenating experience.
After the days trek, we finally met the people whose home we were going to spend the night at. I lived in the home stay with two other British and South African travelers. It was still early in the evening; hence after having some tea and refreshments, I headed out exploring with my camera. I felt calmness within me. It was beautiful and serene. All I could hear was the sound of the streams.
Later in the evening we all sat down together along with the family to eat dinner. It was like a feast of delicious local food prepared by our hosts. Along with the dinner they also served us some home made rice wine, which was more like shots, very strong and pungent and tasted a lot like tequila. The hosts insisted on us having more of it. Later at night, the hosts were asleep, but the four of us stayed up drinking beers, having interesting conversations and playing some drinking games.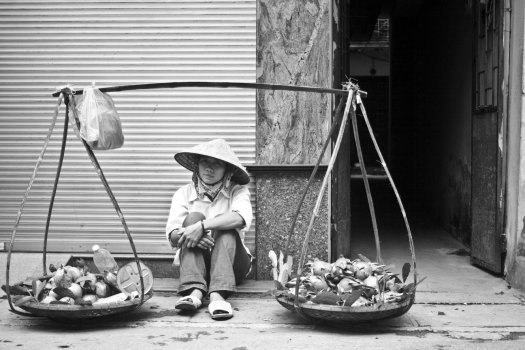 The next day after breakfast we headed for an uphill 12 km trek. Due to the rain, the trek was mucky and damp. On the way I slipped and stepped into two feet of buffalo dung. This trek was slightly more tedious, rather more slippery, but a wonderful experience. Later that evening after having dinner at the guesthouse, we took a bus back to Lao Cai, and then took a train to Hanoi. This time I shared my cabin with an Australian family. Now I had three more days left in Hanoi and I had to choose between visiting Halong Bay and staying back in Hanoi. I decided to spend the rest of the three days in Hanoi and explore the city.
It is always good to explore the city in the company of a local person. To my luck I have a friend in Hanoi. He willingly showed me around the city on his motorbike, shared stories about the city and told me the history about several streets. He also introduced me to the most delicious Vietnamese cuisines, explained to me the laid-back work culture of the city and he also tried to teach me a few words in Vietnamese. I must say it is quite a challenging language to pick up. I did manage to learn a few useful words but I particularly remember the exclamation -"Oi gici oi", which means Oh My God! – very often used by the locals. He educated me about every tiny detail of different streets and certain people that we passed through while riding around the city on his motorcycle.
There are various ways of defining Hanoi. But when I think of Hanoi a picture of a fleet of motorcycles pop up in my head. The traffic is crazy and chaotic. It makes the city more exciting for me as I like chaos. I actually rented a motorcycle for a day to experience the chaos and be a part of it. Coming from India we drive on the left hand side of the road, so it was crazy riding on the right side of the road in Hanoi. After every turn I found myself on the wrong side of the road. But it really didn't matter, as there were motorcycles everywhere. |
Riding through those tangled maze of streets was a crazy experience. Initially it felt like an adrenalin rush to ride the motorbike in Hanoi especially having lived in Singapore for over 2 years, where everything is extremely organized. I rode around the city without knowing any directions. I also lost my way several times. But it was worth the experience.
Another picture that I can paint of Hanoi are the women with their conned hats either on bicycles or on their feet carrying two heavy baskets.
On the last day, I saw the city on foot. I decided to walk my way through different areas of Hanoi. It was mostly into the unknown lanes of the Old Quarter and the French Quarter. It was a very interesting experience.
I went to the markets, local cafes where the younger crowd or couples would squat down and spend time while eating sunflower seeds. I went into the narrowest lanes and sat down with the locals and had my lunch. I tried something, which most tourists never do. One very interesting experience I had was with this old lady who sold tea and cigarettes on a footpath, which is a very common sight. We had a language barrier. She didn't speak a single work of English. We communicated through actions. I actually sat there for a while and communicated with her without using any words.
That night I went to a roof top bar with my friend and some of his other friends for a few drinks. That was the end of my most amazing trip to Vietnam.
Author Comments
Photography has been a passion of mine for the past few years. Travel and documentary photography interest me the most, especially people. I am a very curious person. I like to study human behaviour towards my camera, I like to meet people from around the world, I am very curious to know how different people in various parts of the world live, what they eat & wear, their culture & traditions and differences.
To view my works and adventurous and interesting travelogues, check out http://mithilajariwala.weebly.com or write to me at Mithila Photography