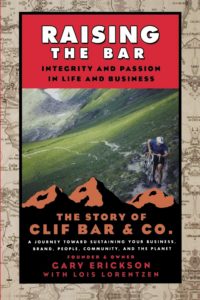 This book is a juxtaposition between Gary's personal life and experiences and his efforts and challenges of operating Clif Bar, a company he confounded in 1992 including details centered around an offer to sell the company for 120 million in 2000.
Chapters are sprinkled with real life experiences including traveling to go mountain climbing, designing bike saddles, racing bikes and playing jazz music. Gary's active lifestyle ties in perfectly with Clif Bar – a product that is enjoyable by those on the go.
It is a book of life lessons learned but it's also a book about trusting one's gut and making decisions based on what feels right rather than doing what other people tell you.
To purchase this book, click here.