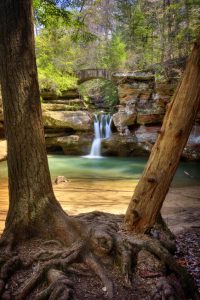 One of my favorite activities is hiking, yet I'm afraid of heights. I love trying different modes of transportation in my explorations, but I've been seasick on whale watching trips and catamaran booze cruises. While I'm a huge fan of beautiful views, driving in elevation, particularly if the roads wind and twist, tends to make me carsick. I generally feel colder than everyone else around me. To function at an optimal level, I need to eat more, drink more, sleep more, pee more, and yes, even poop more, than most people. (While on a camping trip to Mexico for a volleyball tournament several years ago, the guys in our group dubbed me M-PAL – Marianne Poops A Lot.) So that while travel and exploration fuel my passion, they also cause me quite a bit of anxiety. Every visit I make to a new place challenges me to redefine what I can handle physically and mentally. My trip to Hocking Hills, Ohio, was no exception. Riding an off-road Segway was a culmination of my own personal journey with fear and trust on the contraption, and I survived my first ever zipline glide.
I work as a guide in Philadelphia for a few different tour companies, and I was hired by one of them two years ago just as they were gearing up to add Segway tours to their lineup of walking and van tours. I didn't even know what a Segway was then, and I certainly had no desire to ride one. I've never thought of myself as particularly coordinated; I don't think I have very good balance or flexibility; I wasn't confident driving a car or riding a bike. But they needed guides, and as the only female candidate, I was only more afraid to tell them that I was too terrified to ride one than I was of actually riding one.
We began our training inside the office, riding back and forth on its long, narrow floor. After a few minutes, I felt like I was getting the hang of it, and as I chatted and joked with the other guides, my one wheel clipped an electrical outlet box that protruded from the wall near the floor. That wheel stopped while the other one kept turning, and I was thrown from the Segway on to the hard, unforgiving cement. Definitely not the same as falling when I was 12 years old! I was more embarrassed than hurt, so I popped up right away and climbed back on. Two hours later though, when the adrenalin wore off, I felt achy and bruised.
We were supposed to ride around the city for two hours to train, but we ended up staying out for four. Riding for that long worked in my favor – it took me the first two hours just to reach a level of comfort. Had I been a customer on a two-hour tour for the first time, I would have only enjoyed the tour just as it was ending. People who are coordinated, who have good balance, who are more in their bodies than in their heads feel at ease much more quickly than I did. The good news is that if I can get to a point of enjoyment, anyone can!
I worked one season as a Segway guide. I learned the route, memorized the historical and factual information, became adept at speaking in phrases for less than 10 seconds so that my microphone didn't cut out. I developed my photography skill set shooting behind me while riding a Segway one-handed. (One of the guides who trained us shoots handheld video while steering the Segway with his knees.) Of course the problem with turning around to take photos of my group and check on their progress and with glancing down to adjust my microphone, as well as with my general tendency to look around at the scenery or up at the buildings, is that I'm not always watching where I'm going. Segways are not flexible. If one wheel runs into something that the other doesn't, the Segway tips over. When I would try to jump off, the Segway's internal gyroscope caused it to follow me, tripping me in the process.
Being focused and aware, however, particularly of what is around the wheels, eliminates problems. I had many more successful tours than ones with spills (mine or customers'). I only had a few tour-goers fall, sometimes because of a difficulty in maneuvering an obstacle, but more often because the person was distracted in some way, either looking around at the scenery or chatting with other riders. I fell off more than once (even had the damn thing run over my ankle!) and I got back on. I mastered an ability that in the past I never would have even considered. It was quite a summer of building confidence. Maybe I'm not as incapable as I believed.
As part of my Ohio trip, we had the opportunity to participate in an off-road Segway ride at Hocking Hills Canopy Tours. Time to up the ante! I had been a Segway guide for a season, but that was over a year ago, and I was actually nervous to ride one again! I was happy to find that my muscle memory was still there; in that way at least it was like riding a bike. These Segways had big all-terrain tires, amped up versions of the ones I had ridden on city streets. We rode on land that had formerly been a golf course – mostly grassy hills with some gravel paths.
In addition to a challenging, fun ride, the Off-Road Segway Adventure incorporates an interesting guided nature tour. At several points we stopped so that the guide could point out native plants and trees (we even bit into little sticks that tasted like birch beer.) The highlight for me was a brief exploration of the recessed cave on the route as the guide gave an explanation of the geological process that formed these caves all over the region. I breathed in the primordial energy, awestruck by the infinitude of the memories that must be stored in the damp layers of prehistoric rock. I wonder what the earth knows about its own creation.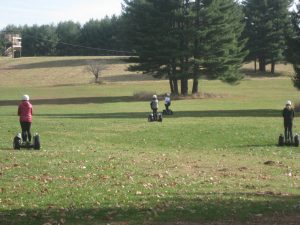 At the end of the guided tour, we were given free time and free range to race around on our own. Such a feeling of freedom and exhilaration! While I didn't always enjoy being a Segway guide, I did love riding them. I love being in control of my body in order to control the Segway. It responds to my body's movements much as a horse would, and I feel the same sense of mastery and accomplishment. I highly recommend trying it – when visiting a city, a lot of ground can be covered for sightseeing in a short amount of time, and when off-roading, a lot of fun practice can be gained on a more forgiving (i.e. softer) platform. Seeing fascinating geological formations in Hocking Hills is an added bonus.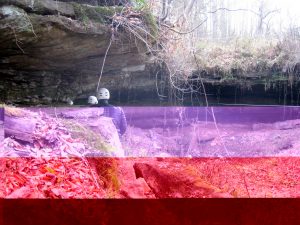 It is perhaps telling that while visiting Hocking Hills Canopy Tours, I chose to do an off-road Segway ride, in which I had some experience, instead of trying a zipline glide for the first time. As it turned out, to my great anxiety, we had time for both.
I had never been on a zipline ride before, and I was terrified. Or I would have been terrified, had I let myself dwell on how I felt. I decided instead to just not think about it. Most of the other writers on the trip with me had tried ziplining before and assured me that it was not that scary. The run we did was just one glide through the trees (must be spectacularly beautiful when the fall foliage is out) over the Hocking River and on to a platform. We did it 'Superman' style, lying stomach down, horizontal to the ground, suspended in a harness.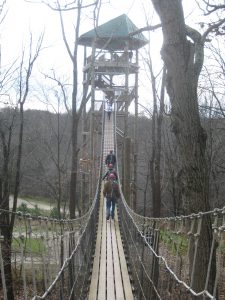 Almost worse than a fear of ziplining was my fear of walking on rope bridges, which we had to do to get up to the start platform. The walk wasn't as bad as I had expected though. Deep breathing helped – to calm me down and to help me finish the climb; it was a little bit of a workout. Looking out over the zip line path from the top of the platform, I felt a little light-headed vertigo and thought I might be sick. My breath came in short jagged bursts, and I almost started crying. I was strapped into heavy protective gear that felt like X-ray padding, then snapped snugly into a harness, and hoisted down horizontally between two railings. The absolute worst moment was right before I had to let go of the railings and hang suspended, that awful moment of anticipation. Once in the air, I allowed myself to trust the equipment and relax. Two of us went at a time, so I had some camaraderie. With a swoosh, we were off!
It was awesome! I felt like I was flying. I would have liked to go faster even, but I was twisting in the air a little. I didn't have any motion sickness as I do sometimes on amusement park rides. It probably only lasted a minute or two; my heart was still pounding when I landed on the platform and was assisted off by the guide. All of us took a turn, and then we did the glide again! The second time I was confident enough to take some pictures. I certainly never expected that I would want to do it twice.
Hocking Hills Canopy Tours has lots of options – basic canopy tours as well as an extreme one; sunrise, twilight, and nighttime tours; and one for kids. They generally last longer than a few minutes, sometimes upwards of two hours, and usually involve gliding from platform to platform. I'm not sure I'm ready for a bigger commitment to a zipline adventure, but I'm really glad I tried it.
It seems to me that I may feel more anxiety than others when traveling and exploring, although I guess it's impossible to quantify, but my desire for new experiences is stronger than my fear and discomfort. So I push ahead despite the anxiety and cherish whatever the reward is – the thrill, the view, the bragging rights, or another self-deprecating story to add to my repertoire. I grow in capability, in confidence, in trust of myself and my abilities. I am life being lived, in all of its messiness and glory.
Disclosure: My trip to Hocking Hills, OH, was made possible by the Hocking Hills Tourism Association. My opinions and perspectives are totally my own — as always.