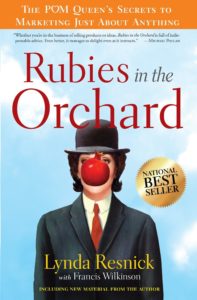 Rubies in the Orchard provides invaluable insights into some of the inner workings and creativity of one of the most successful entrepreneurs in the U.S., Lynda Resnick. Either she or her husband Stewart, have been responsible for significantly growing a variety of prominent businesses including Telafora, POM, Franklin Mint and Fiji Water. A variety of successful business are branded under Wonderful – including citrus, pistachios and a major grapevine nursery in addition to their premium winery holdings.
This is a must read for someone interested in strategies relating to marketing and branding. Lynda approaches ideas and creativity from 'inside the box' rather than thinking outside the box. The book is sprinkled with highlighted and valuable "lyndaisms" based on her first hand experience.
This book takes readers on a journey throughout her successful business career – on one hand its fascinating to read about the development of these successful and iconic businesses, and on the other, the book contains useful how to's relating to marketing and branding.