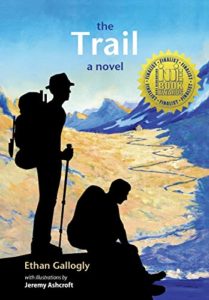 Gil's father recently passed and Gil was recently fired from his job. His father's best friend Syd, who is fighting leukemia decides to hike the 220 mile John Muir Trail in the high Sierra Nevada mountains. Gil's mother asks him to join Syd and Gil agrees despite nurturing a strong dislike of camping, being overweight and very inadequately prepared to take on a physical challenge of this magnitude.
This is a story of how their relationship develops on the trail, challenges overcome, the friends they meet, including a possible romantic interest who walks into Gil's life. But the story is also a look at nature, the history of the John Muir trail and backpacking culture. This story is a mix of both fact and fiction.
The story ends with hope and on a positive note; after completing their hike, Syd discovers that his cancer has gone into remission and the girl who Gil met, reaches out asking if they can meet.
This very well written book is a must read for anyone who enjoys long distance hiking. To purchase this book, click here