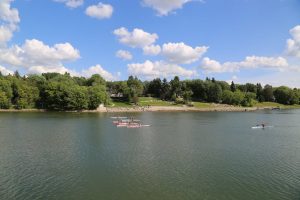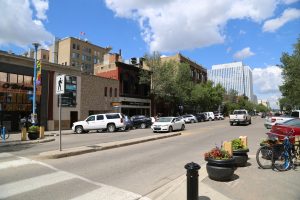 When one thinks of Canadian cities, iconic urban destinations quickly come to mind such as Toronto, Montreal, Quebec and Vancouver. Saskatoon is not located near any of these major urban centers and is certainly a much smaller city in comparison – both of these aspects are refreshing and are part of the appeal of visiting.
So where is Saskatoon anyways? It is located in the southern part of the Canadian province of Saskatchewan about 2.5 hours drive north of the city of Regina. From the states, this province borders Montana and North Dakota.
Downtown Saskatoon is only approximately a 15-minute hassle free ride from the airport. Several airlines service the airport including Canada Air, Westjet and Delta Airlines as well as a few smaller regional airlines. The airport is super easy to navigate because of it's size – it is modern and very clean.
Saskatoon has embraced its rural location, the south Saskatchewan River (which runs through town), a number of Festivals throughout the year and it's culinary prowess.
When traveling we look for a variety of unique attractions and activities – often inherent to a specific region or destination. Saskatoon offers several of these including the Wanuskewin Heritage Park (exploring the culture of the First Nation people) and the Western Development Museum, Pion-era (an in depth look into historical life in Saskatoon).
The city has also seen an interest in the culinary world with a number of restaurants preparing creative and freshly sourced cuisine.
The economy here is strong – from the pot ash mines to significant agricultural crops.
For the visitor, Saskatoon delivers a variety of intriguing options and activities.
STAY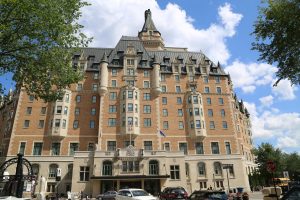 Delta Bessborough. This stately old Saskatoon landmark opened in 1935 downtown along the banks of the South Saskatchewan river. For decades it must have been quite the site – the tallest and most impressive building in this part of town. It was the last of the grand railway hotels that dot parts of Canada. It was a very modern hotel when it opened its doors; each room had direct dial phones and a radio. Even an electric fireplace was installed in the lobby.
During a recent visit the General Manager told a story of a 97 year old local who came to celebrate her birthday here – her first time ever in the hotel. She had always been a bit intimidated by its towering presence. For a hotel of this caliber the prices are quite reasonable. The rooms are noted for their beds – they are extremely comfortable. Complimentary wifi is located throughout the hotel.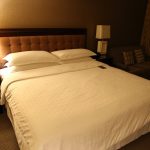 Sheraton Cavalier is located downtown only about 15 minutes from the airport. The location here is ideal – the Meewasin River Valley trail is across the street as is is the riverbank of the South Saskatchewan River and is easily within walking distance of a number of restaurants and boutique shops. Don't want to walk far for food? This Sheraton has three restaurants on the lobby level. As hotels of this caliber should offer but don't always, complimentary wifi (works very well) is available throughout all the guest rooms. Visit: www.sheratoncavaliersaskatoon.com
CULINARY

Ayden Kitchen & Bar is located in downtown Saskatoon at 265 3rd Avenue. The restaurant offers an airy feeling helped in part by the very tall ceilings. A well stocked bar is located in one room and a semi-open kitchen in another where you can watch the chefs hard at work.
This Saskatoon culinary highlight is well worth a visit. The vibe among the staff and chefs here is energetic – with patrons quickly fueled by their innovative cocktails, starter appetizers including a variety of charcuterie and then digging into the main portions. The menu changes constantly – the chefs crave to create … a variety of unique dishes using seasonal sources including from the local farmers market. Full rib eye steaks are aged on site for 35 days before being used.
Refreshingly there is no waiting in line for gender specific bathrooms here – four first come first serve restrooms are available. Water glasses are merely the bottom cut off 1/3 of 750 ml wine bottles. Service is quick and efficient but don't come here for a quick meal – relax, take your time and order from a wide variety of always changing menu options. This is a restaurant you will want to make a priority to try when in town. Visit: www.aydenkitchenandbar.com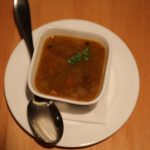 Calories. Restaurants of this size popup all the time in cities – but few have the staying power of this one (founded 1986). With a name like this, one might expect high calorie unhealthy foods to dominate the menu such as foods high in fats & oils, nuts or processed foods. Rather the cuisine focuses on locally grown items and creative dishes (the Watermelon Gazpacho as an example) – a number of gluten free items are also available on the menu. Other Saskatchewan items include wild Northern trout, wild mushrooms and farm raised chickens.
Other healthy preparation practices include using real soups, creating stocks & sauces from raw ingredients (no additives) and using real butter in all their baked items. Visit: www.caloriesrestaurant.ca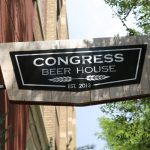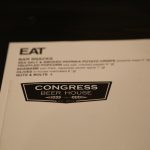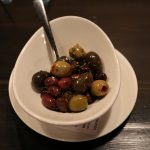 Congress Beer House makes an ideal stop for a quick bite to eat complemented by a fairly extensive beer selection (30+ beers on tap). The focus is on fresh ingredients prepared from scratch. Saskatoon brewed beer? This is the place for those. Or a steak sandwich or a hamburger. Top pick the Cubano OG. Visit: www.congressbeerhouse.com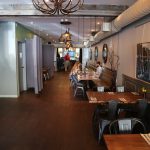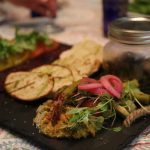 Nosh Eatery & Tap focuses on vegetarian items, although not exclusively. In any case eating healthy is a big part of a dining experience here – from the vegetarian "charcuterie" plate to a number of delicious salads. Those with vegan and celiac diets can also find those related items on the menu. The meat and fish dishes are also locally sourced. Friendly and helpful staff also helps make this an enjoyable dining experience. Visit: www.nosheateryandtap.com
RIVERSDALE
There is a tenuous time when revitalization starts to take hold of a neighborhood but residents are not sure if it will continue. Based on what we saw during a recent visit, the revitalization has tipped the scales and the quality of this neighborhood should only continue to improve.
This neighborhood is a short drive from downtown and for years had a reputation as a place you did not want to be either during the day or the night. It is one of the oldest neighborhoods in Saskatoon and has seen a spark arrive to its streets in the past few years with the opening of new restaurants, art galleries and the restored Roxy Theatre (a brilliant interior renovation has restored it to it's former glory). Those in their twenties and thirties are moving into the neighborhood because they can actually afford housing here – and either opening up their own business or working in the area.
Visit: www.riversdale.ca
ACTIVITIES
Canoe Tour with Canoeski Discovery Co – owner and lead guide, Cliff Speer has been canoeing central Canadian rivers since a child. Today he and his company lead a number of outdoor canoe (and in the winter, skiing) trips on the waterways throughout Saskatchewan. These trips appeal to birders and to those who just want to experience some of Saskatchewan's outdoor beauty from the water.
Trips range in length from a few hours to multiple days with overnight camping options. An easy trip from Saskatoon (depending on weather and the river level) is a two hour canoe ride down the South Saskatchewan River towards Saskatoon. This river is wide, provides easy canoeing and surprisingly there is no development along the banks despite being so close to Saskatoon. Cliff is an easy going, yet an extremely experienced guide who enjoys talking about Saskatchewan's wilderness and outdoor activities. Visit: www.canoeski.com
Prairie Lily Riverboat Cruise runs seasonally along the South Saskatchewan River in the city of Saskatoon. The most popular excursions are their regular cruises which sail slowly allowing plenty of time to take in the scenery along the banks of the river. This is a leisurely and relaxed way to see the river. Narration provides additional insights into what you see. These last approximately one hour – 30 minutes sailing up river and then 30 minutes back. The Lily also offers longer cruises in the evenings paired with dinner. Visit: www.theprairielily.com
Shakespeare on the Saskatchewan is an annual event (since 1985) that features two full-length live Shakespearean plays in a 282-seat tent on the banks of the South Saskatchewan River. The plays run daily for about six weeks covering much of July and August. The performances are intimate based on the small size of the venue – there are no bad seats in the house – you can easily see the eyes of the actors from anywhere within this venue.
For these six summer weeks, a mini village called the Elizabethan pops up and transforms the banks along this part of the river. Professional actors rehearse here and visitors can enjoy food & drink at Sir Toby's Tavern and the Riverside Deck – Saskatoon's only riverside tavern.
Ticket prices are quite reasonable for the performances.
Wanuskewin Heritage Park is located only about 15 minutes from downtown Saskatoon. In some cities 15 minutes by car may only achieve a distance of several blocks. Here it is a different story – while being so close to the city it feels so far away. Set in a very rural environment the visitor center explores the history, language, arts, cultural activities and nomadic ways of the tribes that roamed these plains for thousands of years.
For those looking for a more in depth cultural experience consider a stay inside one of the tipi's located a short walk from the visitor center. A stay here combines a variety of cultural activities including how to raise/build a tipi, doing the "smudge" (breathing and cleansing by inhaling a combination of burning sage and other herbs) and participating on a guided hike passing some of the most important historical spots at the park including a Buffalo Jump.
Arguably one of the highlights is listening to one of the First Nation members speak about their traditions including the fascinating Sun Dance. These traditions are alive and well and still practiced among the First Nations. Visit: www.wanuskewin.com
MUSEUMS
Western Development Museum showcases on a fairly large scale the heritage of the people of Saskatchewan. To this extent the museum is quite varied on it's collections and exhibits. The main entrance to the museum leads one directly onto a street in a town – named Boomtown 1910. The main street is paved – although perhaps it should be dirt – and is lined on both sides by a number of era shops and service stores. These range from the Blacksmith, the bank, dry goods, drug store, an auto garage and everything a small town 100+ years ago would have needed.
We have visited hundreds of museums throughout our two+ decades of traveling and have never seen a Funeral Parlour exhibit in a museum – but there is one here! This permanent exhibit, the Edwards Funeral Home features a hearse parked in front, a closed coffin spread out among two rooms – an outer "lobby" and a tiny chapel.
Boomtown 1910 is only a part of the museum – a number of other displays include transportation, farm family life and machines used to harness the prairie winds. The farm equipment display is impressive, housing large vehicles including many tractors and harvesting machines.
A great time to visit the museum is in July during the annual Pion-Era days. Interactive indoor and outdoor displays and exhibits are available for all ages to enjoy. Farming equipment is demonstrated including the process of threshing, blacksmiths making tools, horse and wagon rides, a fashion show and food demos including clay oven baking and ice cream making.
Some 200,000 people visit this museum annually. Visit: www.wdm.ca
Ukrainian Museum of Canada focuses on Ukrainian history, culture and life in Canada. Ukrainians have been immigrating to Saskatchewan since the 1890's fueled in part by wanting to seek a better life for themselves as well as the Canadian government encouraging immigrants to settle rural lands. Early Ukrainian immigrants found the land remote, extremely cold and were isolated from the village life they grew up with in the Ukraine.
This is not a new museum – it was founded in 1936 by the Ukrainian Women's Association of Canada with the first displays opening to the public in 1941. Displays include a variety of artwork including the very detailed Pysanka writing (a Ukrainian Easter egg painting tradition). A workshop on how to follow the steps needed to create these painted eggs is offered in March prior to Easter. And the gift shop sells plenty of the Pysanka supplies.
And look for the Remai Modern Art Gallery to open to the public in the Fall of 2016. There will be a significant collection of Pablo Picasso's works housed here. Visit: www.remaimodern.org
MORE INFORMATION
Official tourism: www.tourismsaskatoon.com

Social Media:
Facebook: www.facebook.com/TourismSaskatoon
Twitter: www.twitter.com/VisitSaskatoon

Use hashtag: #exploreYXE