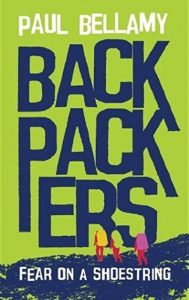 This is not just your ordinary tale of backpackers seeing the world. The scene is the late 1980's in South East Asia – before Internet, before cell phones, before instant communication around the world. Two budget backpackers (Andrew and Kirsten) are trying to see the world on the cheap – pinching pennies by staying in ratty cockroach infested hostel dorms and quickly running out of money.
Then Andrew discovers a money belt full of money and a passport. Rather than "do the right thing" and turn it in, he grabs it and shares it with Kirsten – unfortunately the passport belongs to someone involved in nefarious affairs who quickly tracks them down. Things snowball from here and Andrew and Kirsten become wrapped up in smuggling and caught between a killer and a smuggler who ultimately are both trying to kill each other.
This epic journey keeps the reader on edge as the story takes them through Indonesia, Thailand, India and Nepal. It is a story no one wants to find themselves involved in – some backpacking stories end happily, some do not!
To purchase this book