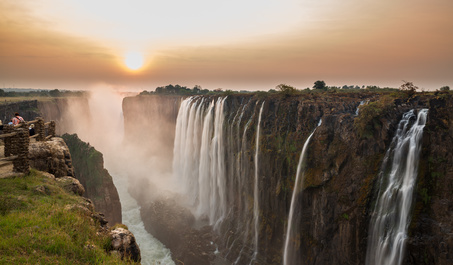 Greetings from the Jollyboy Backpackers Guesthouse. Long gone are the old days of backpacking – where amenities were basic and services on the light side. Here you have excellent Internet access (by sub Saharan Africa standards), a pool, full kitchen and a variety of falls and safari related activities to choose from. The backpackers lodge in Victoria Falls we stayed at even had several onsite masseuses!
The "no man's zone" – the area between two borders of Victoria Falls and Livingstone is one of the best in between border areas I've seen. The reason for this is you walk across the bridge with the Falls below you. It makes for gorgeous viewing but this is definitely the longest in between border posts I've been to.
I'm winging it with the passports this trip – one of my passports is maxed out completely, other than about 2 spaces for stamps and one empty page for one more large visa. The Zambia official almost stamped my empty page but I caught him and he had to stamp partially over another stamp. My other passport is almost maxed out including all the extra pages I added not long ago.
After hitting the ATM we were surprised to show our account had like 50 million in it – for a few seconds we felt like millionaires but after checking the currency we found it was in "kwacha", the currency of Zambia. Finding some wild lemon grass (this plant is not used here at all other than for decoration) we decided to make some Thai Tom Yum Gai soup. We hit the supermarket – upon first glance it looked like any supermarket you find worldwide. But then seeing mothers carrying naked babies and seeing a line that snaked around the store for the bakery we realized we weren't in a "western" supermarket.